City you live/work in:
A proud Bramptonian, living in Ottawa and working throughout Canada and the Northeastern United States.
Describe the role you play professionally:
I lead a Customer Success Team for an AI software company called Dataiku in the Eastern US and Canada. This is a relatively new function in the tech industry, where we act as a relationship and engagement manager and help enterprise customers identify business problems, map out AI solutions and support them in implementing big data projects. My team's goal is to ensure that clients are enabled to derive value out of our tool and grow to see us more as trusted business advisors and less as vendors. My strength is in articulating the business value of AI projects in a way everyone can understand, except my family – they still have no idea what I do. I'm grateful that in this role, I get to combine my love for people, technology and communication!
What is the most challenging aspect of your job?
The technology landscape is always changing and keeping on top of new developments can be daunting. I'm convinced the moment you fully understand a new technology; it's almost always rendered obsolete.  Plus, the organizations I serve span different markets and industries, and so the challenge isn't just in keeping up to speed with what's new but also understanding how this impacts my customers. There is no room for complacency and so the key to my success has been my commitment to ongoing learning.  
What is your biggest professional accomplishment?
Early in my career, I valued stability and sought roles in large companies and soon learned this came at the expense of personal growth. Three years ago, I was pushed outside of my comfort zone when I joined my first tech role at a Silicon Valley based AI start up as their 56th employee - with next to zero technical knowledge. It was horrifying. Three months into the role, a colleague gently suggested I explore other options as I was not cut out for the Valley. I was initially crushed, and then channeled my disappointment into determination. Today, that former colleague is among my most encouraging mentors.
Since then, I have gained technical knowledge on the application of AI, carved a customer base in a new market, worked with some of the largest enterprises in the world, and built a network of global relationships. My greatest accomplishment was achieving growth through great discomfort.
Why did you decide to do an EMBA?
My experience has deepened my industry and functional knowledge in AI and account management, but I was missing an awareness of broader business practises and their significance in an organization. When I decided I wanted to grow in my current function, I was confident the EMBA would be an accelerator to get me there.
Ivey's case-based learning assured me that my course material would be relatable to the world around me - which was in stark contrast to my undergrad in the life sciences. I was intrigued by the weight of in class discussions and collaborative team projects, as well as the strength of the alumni network. Ivey felt like the place where I could sharpen and expand my leadership toolkit.
What is the most significant thing you've learned at Ivey?
When working through cases my initial approach is almost always to find the "right" answer and altering this mindset has been challenging. A significant lesson I have learned is that there are many solutions to any business problem, and the goal is to make the most informed decision with the data before you.  A good leader must be able to articulate their position and confidently defend or realign when challenged. This program has taught me to focus less on the black and white and instead live comfortably in the grey areas.
What's been the most surprising aspect of the Executive MBA journey to date?
With the word "executive" in the program title, I was concerned how my age and experience level would be received by my cohort. However, each of my classmates walked into the room with their own strengths and vulnerabilities and were keen to share their growth areas. What I expected to be a competitive environment has been much more nurturing as there is a great appreciation for the perspectives of diverse classmates, which enhances our learning experience.
What books are on your bedside table right now?
The Goal by Eliyahu Goldratt
Data Science for Business by Foster Provost and Tom Fawcett
Becoming by Michelle Obama
How do you manage stress (i.e. sports, exercise, meditation etc)?
Organization is my love language. I'm a big believer in proactivity and find that planning a large task with defined milestones ensures that the process to completion is fulfilling, rather than overwhelming.  In unpredictable situations, I find peace in driving my focus to items within my control and accepting those which I cannot. Mindfulness apps and alerts to my smart watch have help me release tension as they remind me to pause throughout my day to stretch and breathe.
During downtime, I love a good story whether it be a book, film, or TV series. I like to balance between uplifting plot lines and terrifying true crime documentaries - there is no in-between. Throughout the pandemic, the Kind World and Modern Love podcasts have made me smile, while Crime Junkie is sure to keep me up at night.
Industry: Artificial Intelligence
Jagroop Gill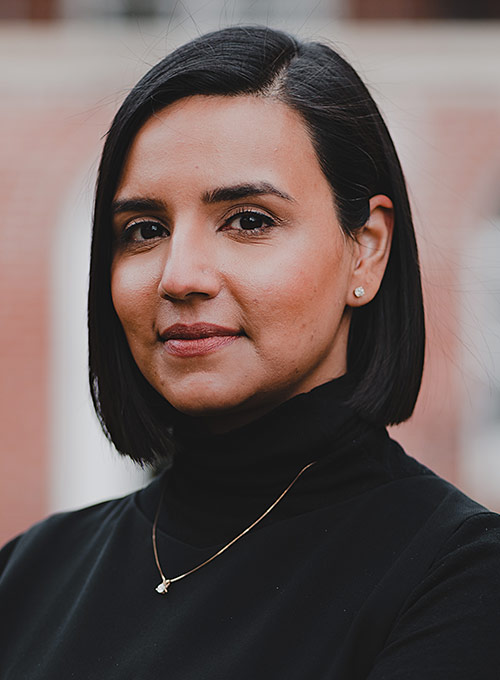 Regional Lead, Customer Success, Dataiku
Brampton, Canada