Pierre L. Morrissette Institute for Entrepreneurship
Stress-testing ideas at Entrepreneurship Bootcamp
It's 10:30 p.m. on a Friday night and the room's abuzz with laughter and chatter. Yet the discussions are coherent and very analytical as these aren't students winding down after a long week of reports and case competitions; they are a concoction of Ivey MBAs, HBAs and Western undergrads who are embarking on an arduous weekend bootcamp to turn raw ideas into viable business ventures.
On June 19-21, the Pierre L. Morrissette Institute for Entrepreneurship hosted its 2nd Entrepreneurship Bootcamp for 19 students. Many were drawn to sign-up simply because of curiosity; to test that itch or that inner voice asking, "is this the life for me?"
Leading the bootcamp is Ash Singh, HBA '04, who resides in Singapore where he has built and sold numerous ventures in the mobile, trans-media, digital and Internet space. The Ivey bootcamp isn't Singh's first rodeo; he has conducted more than 100 such start-up bootcamps with students at INSEAD campuses in France, Singapore and has now brought his unique program to his alma mater.
Singh considers his time at Ivey an important milestone in his entrepreneurial journey. Soon after graduating, he went to Hong Kong and built his first business. "There are experiences that elevate your game and you look back and ask yourself, 'was it just me or was it the environment and all the other pieces that were put around it.' You must be able to look back and recognize where value was created and a difference was made in your life."
A Product of Trial & Error
The start-up bootcamp was created by Singh and a fellow professor, both of whom had built ventures, raised money and sold companies. Despite still recovering from his 30 hour trip to Canada, Singh's enthusiasm was unaffected as he walked students through the start-up process with regular anecdotes to his personal wins and failures.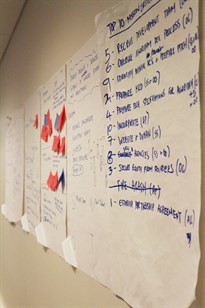 "The idea for us was to create a very focused, practical, hands-on-experience, where the participants, experience all the challenges, learn all the tips and tricks and make all their mistakes in the bootcamp – so that when they do get a chance to go out and build a company, they are prepared, aware of all the nomenclature and all the nuances of raising funding and setting up the business," said Singh. More than 100 bootcamps later, the results are very impressive with 50% of the companies created being funded, which according to Singh is one of the highest in the industry.
A new addition to the Ivey Bootcamp was an interactive, online platform Singh has constructed over the last year. Singh's Hyper Accelerator includes timed sessions and quizzes with a strong gamification emphasis, and works side-by-side with the bootcamp sessions. Singh hopes the program will allow future participants to build their ventures on their own time, in the comfort of their own environment, from anywhere in the world.
Growing an Entrepreneurship Community
While the group was predominantly made up of Ivey's 2016 batch of MBAs, participants also included Ivey HBAs and students from Western's Propel Entrepreneurship and Brescia University College; further evidence to the growing ties within Western's entrepreneurship community.
David Aideyan and Ayush Vaidya are part of Propel's Summer Incubator, where they are developing an audio content licensing company that aims to provide musicians with the resources they need to create a professional image. They've been engaged with the venture since December 2013, combining their talents for web design and music production. "We really benefitted from the fact that we were getting this knowledge that essentially took him (Singh) years to get," said Aideyan.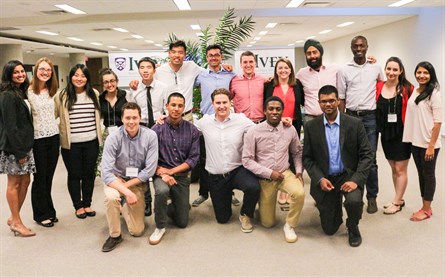 Dannielle Sakher from Brescia has had her fair share of entrepreneurship experiences. Having completed BUS 257's Feasibility Study and Junior Achievement's Company Program, she felt prepared. "It was definitely a non-traditional approach and unlike the entrepreneurship experiences I've had before. Definitely haven't done it in 48 hours," said Sakher. "You can tell from Ash's experience that he knows the points where conflicts arise and problems happen, and he starts with those things right at the beginning. It definitely made me rethink entrepreneurship," said Sakher.
The bootcamp was also open to recent graduates contemplating new ventures. Sarah Richards, MBA '15, is working on a venture that aims to reduce texting and driving. Having gone through the New Venture Program, Richards and her business partner signed up for the bootcamp to get some added feedback on the venture. "The insight he (Singh) brings from his extensive experience as an entrepreneur was invaluable in helping me and my team improve our business plan," said Richards.
The bootcamp was the first taste of entrepreneurship education at Ivey for most of the participants. The lessons learnt during the intense program will be valuable as they join more than 300 HBAs and MBAs this fall in the Ivey New Venture Project, Ivey's core course in Entrepreneurship.