Pierre L. Morrissette Institute for Entrepreneurship
Entrepreneurship Bootcamp - Unlocking entrepreneurial potential
Shanthal Perera
|
Feb 27, 2019
"Entrepreneurship" is an exciting, yet equally daunting term. The very idea of making your own path and building a business may not be for everyone. But how would you know if that inner urge is a temporary itch from watching the 'Social Network,' or something deeper worth exploring?
Since 2015, The Pierre L. Morrissette Institute for Entrepreneurship has partnered with Ash Singh, HBA '04, who developed a startup boot camp program to give participants an experience of building a venture within a weekend, turning raw ideas into viable, pitch-able ventures within 48 hours.
The startup course was developed during Singh's time at the INSEAD Business School in Singapore, where he had relocated after selling his first startup at age 22. Today, the startup course has been taught in 18 countries, with more than 200 sessions.
Evolving with the times
As Singh is lecturing on a Friday night at the Ivey Business School, there's a stack of stapled paper at the side of his desk, full with cartoon illustrations and diagrams; it's what remains of the original startup course.
Over the years, the course has moved into a digital platform, allowing students from around the world to go through the process and receive real-time feedback on their submissions.
This February, Singh and his technical team took the program to Slack, a cloud-based platform that allows for collaboration on projects. Think of it as a classic chatroom, fitted with triggers and bots to carry participants through a set of tasks.
Gone are the butcher paper and coloured Post-its that adorned the classroom walls in previous editions.
According to Singh, the use of technology has increased the capacity for social learning, with all the participants able to view and share how their colleagues are progressing through the program, and what problems or questions they are tackling with their business idea.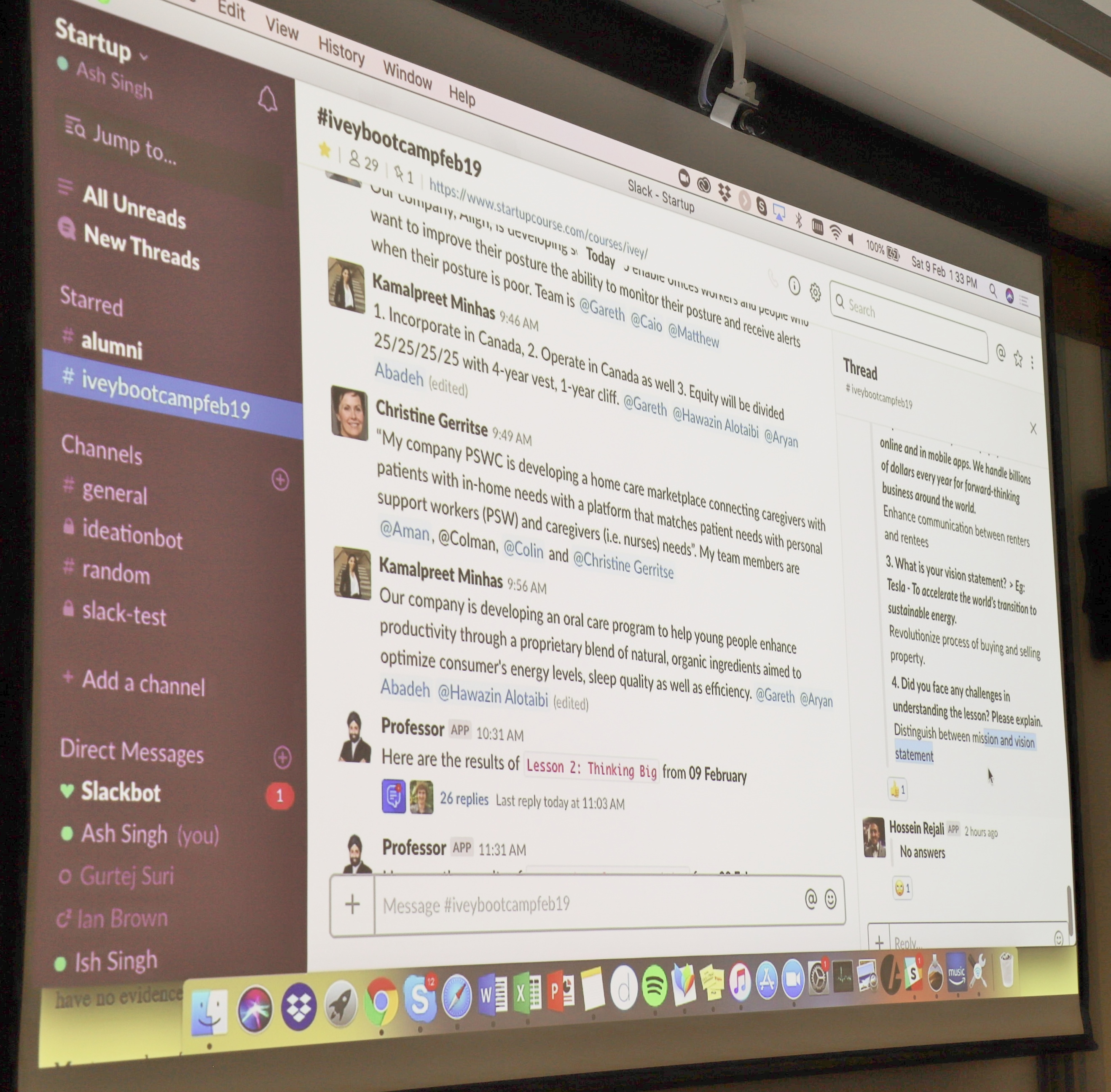 Ideation is an essential part of the boot camp experience. In past iterations, Singh has used a number of design thinking exercises to help participants come up with ideas. With the help of Slack bots (software applications that run scripted tasks), participants are provided six ideation triggers, each exploring a different type of business idea - from fulfilling needs and solving pain points, to providing a delight like Renova's coloured toilet paper.
Within 40 minutes, the room had developed over 50 ideas and voted on their favourites to create a top 10. This list would form the businesses with which participants can form teams and work on for the weekend.
Step-by-step, hour-by-hour
The long days are made manageable by the pace and step-by-step process of the boot camp.
Firstly, Singh gets students to look at the big picture (what can their idea become?) and reiterates the importance of having a good foundation (where to incorporate, types of legal entities etc.).
Then begins the building process, and hour-by-hour, the participants must work through from value proposition, assessing the market, and minimum viable product, to execution and financial modelling as the night wears on.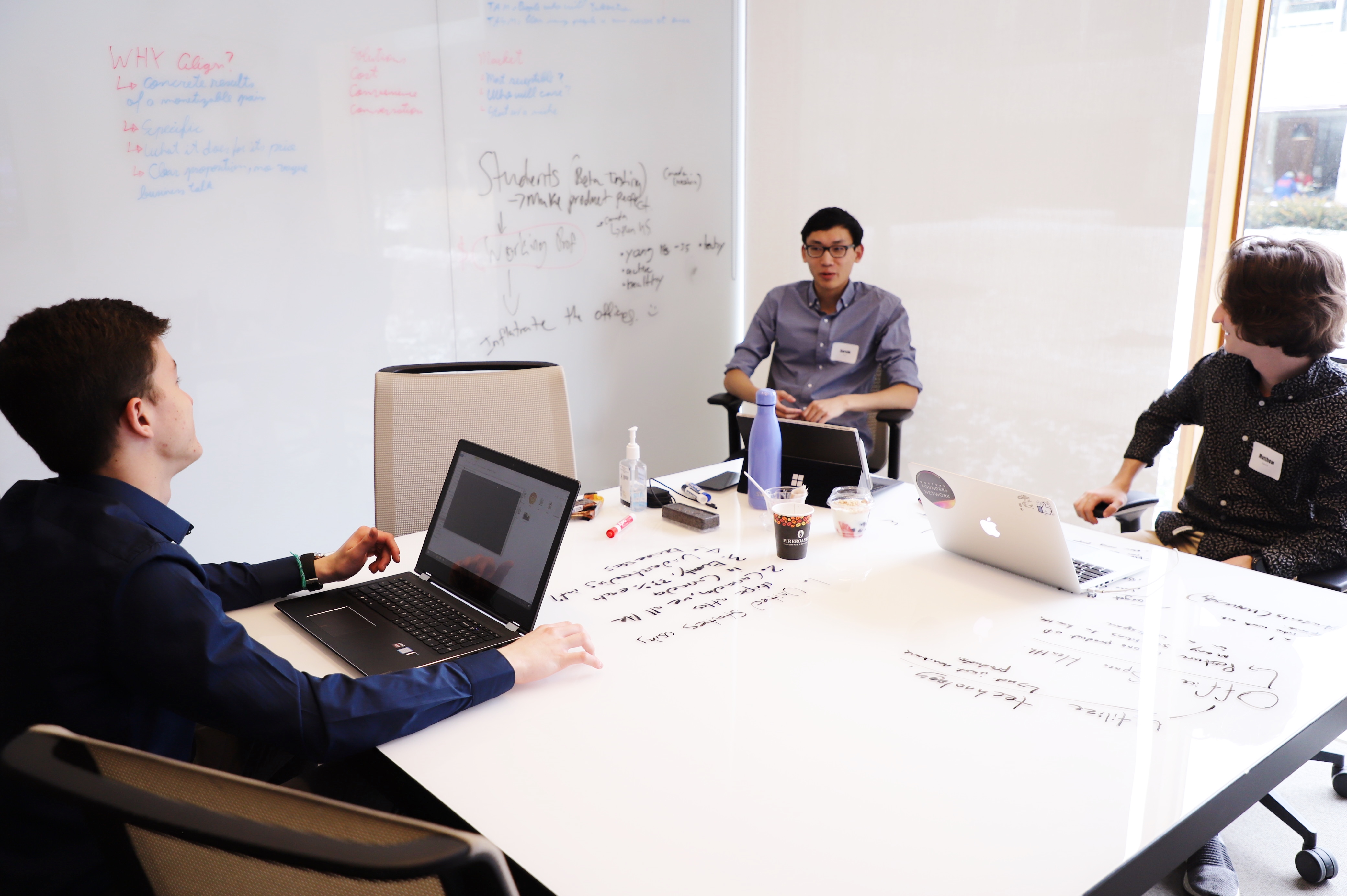 The pace can be challenging, but with so much to get through, Singh's motto of "ready, better than perfect," rings through, not entirely applicable for ventures in the health sector.

Each one-hour segment involves a class lecture with a Q&A, and a group breakout to answer the important questions for that session in the Slack channel.
As the clock ticks towards the hour mark, a Slack bot announces that the session is closed and prompts participants to return to the classroom.
Food and refreshment breaks allow for a brief moment to stop thinking about the business, but even these breaks become opportunities for teams to share their progress and problems with each other.
A classroom like no other
The boot camps continue to gather a variety of students and alumni from different backgrounds and specializations, which has always been one of the defining aspects of the experience.
The latest February edition included various engineering streams, computer science, and business (including a student in thanatology, the scientific study of death and the practices associated with it). For many of them, the boot camp is their first taste of entrepreneurship.
The group was also complemented by the presence of some successful entrepreneurs, whose own stories and lessons helped ground some of the course material.
Pitch Time
It's Sunday morning and everyone's dressed-up. It's pitch day and you can sense nervousness amongst the group.
Each team has two-minutes to make their case to the judging panel and as it is a learning experience, everything is scrutinized; from how team members interact with each other to body language. A number of teams are called back for a second presentation to replicate an investor's invitation to meet and pitch to his/her team.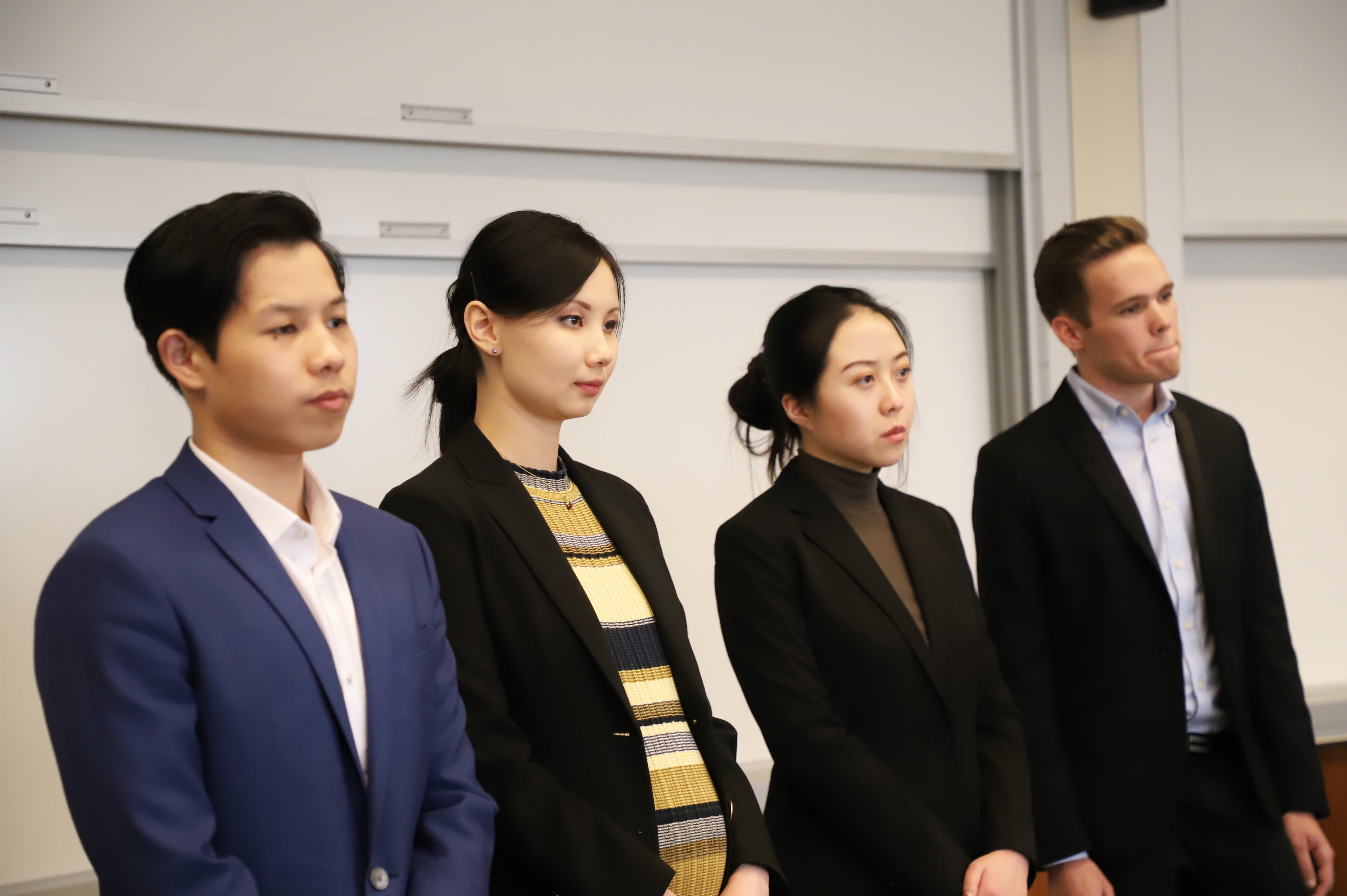 With the announcement of the winner, the tension in the room breaks. Everyone's been through a gruelling weekend and it is a moment to breathe a sigh of relief. There's a sense of completion and the room turns into an informal social, with participants trading emails and phone numbers to stay in touch, and potentially keep working on their idea.
While a weekend isn't enough to replicate the birth of a startup or the life of an entrepreneur, it's a starting point that changes the way each participant looks at the world around them.
Where ever they see a challenge or a problem, they will hopefully also see an opportunity.