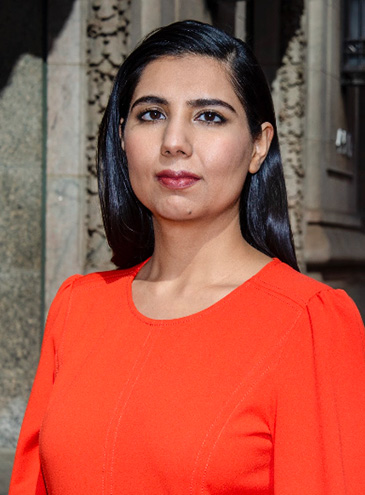 To search for publications by a specific faculty member, select the database and then select the name from the Author drop down menu.
Arora Akanksha, a seasoned finance professional, earned a summa cum laude degree in Business from York University and a Master's in Public Administration from Columbia University. Her career took off as a CPA at PricewaterhouseCoopers, where she managed audits across diverse sectors.
In 2016, Arora transitioned to the United Nations, joining the UN Financial Reforms Committee. She played a pivotal role in developing the UN's Financial Regulations and Rules, policies, procedures, and an internal control framework for accountability over UN funding. This shift further honed her leadership skills, enabling her to adeptly navigate complex global financial landscapes. Throughout her United Nations tenure, Arora's influence extended to roles at UNFPA and UNDP, showcasing her adaptability in addressing multifaceted global challenges.
Arora's defining moment came in 2021 when she became the first female and millennial to run for UN Secretary-General. Her candidacy was a bold response to contemporary challenges. Beyond her personal aspirations, it signaled the need for fresh perspectives and a paradigm shift to address the rapidly evolving world. Her leadership philosophy is rooted in inclusivity and innovation. She believed in harnessing the collective potential of individuals across boundaries, backgrounds, and biases to address pressing needs.
Post her United Nations experience, Arora embraced a new chapter as an educator. She transitioned from shaping financial reports to shaping minds, focusing on equipping the next generation with skills and perspectives to thrive in a constantly changing world. In addition, to teaching Arora serves as an advisor to Kiribati, Sierra Leone, and Tanzania in achieving Sustainable Development Goals and transitioning to a carbon neutral economy.
Teaching
ESG In-Action
FinTech
Accounting & Finance Fundamentals