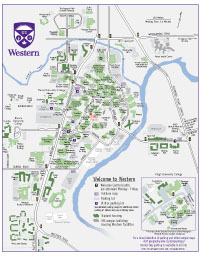 From the East or South:
From 401, take Veterans Memorial Parkway, (Exit 194) to Oxford Street. Turn left on Oxford Street and proceed to Wharncliffe Road. Turn right onto Wharncliffe Road which becomes Western Road. Proceed past Sarnia Road. The Ivey Business School is on the left.
From the West:
Follow Wharncliffe north past Oxford Street, merge onto Western Road. Follow Western Road past the 2nd set of lights (Sarnia Road). The Ivey Business School is on your left hand side.
From the North or Northwest:
Follow Hwy 4 south past Fanshawe Park Road to Richmond Street. Follow Western Road when it forks out to the right. Follow Western Road past Brescia Lane. The Ivey Business School is on your right hand side.
Visitor Parking
Visitor parking information is available at: http://www.uwo.ca/parking/find/visitor/index.html
For students booking a Western tour, complimentary parking passes will be provided on the day of your tour.Please park in a visitor designated attended lot. You will be asked to pay a deposit (max. $12.00). Parking passes will be distributed during your tour. You will be refunded your parking deposit when you leave the lot. Visitor parking is limited at the Ivey Building.
For more information about parking on campus, please visit http://www.uwo.ca/parking/map.html. We suggest that you park in the Alumni/Thompson Lot or the Weldon Lot which are closest to the Cronyn Observatory (where your Western tour will begin) and 7 minutes walk to the Ivey building.