Program of Study in Years 1 and 2
Honors Specialization in Global Development Studies at Huron University College. Pursuing a dual degree: HBA and Global Development Studies. Currently in fourth year.
Extra-curricular involvement in the first two years of university:
Team member for Habitat for Humanity Western's reading week volunteer trip to Louisiana.
VP Affiliate Colleges for Habitat for Humanity Western.
Resources and Facilitating Career Leader for the Huron Leadership and Professional Development Program.
Peer Guide for the Huron International Student Program.
Resource Center Volunteer at Mission Services London.
Student Assistant at Huron Student Support Services.
Third Place Winner at the 2015/2016 Western World's Challenge Challenge.
Why did you choose Ivey's HBA program?
I chose Ivey because I believe that its case-based learning method gives me the tools to put theory to practice in the real world. I have not only learned how to apply business theory, but also global development theory I learned in my first two years. The diversity of experience in the classroom combined with Ivey's unique approach to decision-making is empowering me to make a difference in the world! 
Describe one highlight from your Ivey experience thus far.
The highlight of my Ivey experience occurred in Ghana where I was partaking in the Ivey Africa Service Learning Course. I had the privilege of writing a soon-to-be published Ivey case on a business in Ghana and then teaching that case to Ghanaian business students at a partner university. It was so rewarding to be on the teaching side of case method and to empower other students like my Ivey professors had empowered me. 
What advice do you have for incoming HBA students?
Don't worry about having less experience in certain business disciplines than your peers. Some students will be stronger in numbers, others stronger in writing - and that's okay! The beauty of the collaborative section experience and case-based learning method is that you and all of your peers will bring your experiences together to make each other stronger. Everyone comes out of HBA1 feeling confident in all areas of business!
How has Ivey's Career Management set you up for success?
As someone with little prior business experience, Career Management prepared me for recruiting quickly and effectively. One of my favourite events was Career Management's mock info-session, where I got to test my networking skills before trying out the real thing and securing a great summer internship. 
What kind of support did you find the most helpful with the intense curriculum in HBA1?
I found the support of Ivey's professors to be most helpful. Ivey has chosen an incredible selection of faculty who do not just possess intelligence, but also care for each and every student. Professors are always available to meet with you and develop strategies to help you improve in all aspects of your life at Ivey.
What has been the most challenging part of the program for you?
The most challenging part for me in the beginning was time management. I wanted to give my best in everything that I did - which I thought meant staying up all night trying to complete cases that I did not always have the answers to! I learned that it is okay to not know everything and that your professors and section mates will help you learn more than you thought was possible. 
What are your plans after graduation?
After graduation, I plan to pursue a career in the international development sector with a focus on micro-finance. Ivey's practical case-based learning method combined with the theory I have learned in my Global Development Studies degree has prepared me to make a global impact!
HBA '19
Ivey Business School
Emma Hogeterp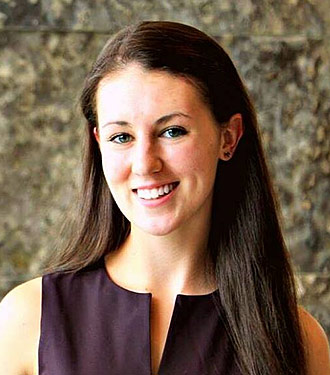 Hamilton, Ontario - Westdale Secondary School