A graduate of Western University in 1986, Dr. Cathy Faulds received Certification in Family Medicine from the College of Family Physicians of Canada (CFPC) in 1989, and she became a Fellow in 2004. She completed her Certificate of Added Competence in Palliative Care from the CFPC in 2016 and her American Board of Palliative and Hospice Medicine in 2010.
After practicing in rural southwestern Ontario, Dr. Faulds continued her comprehensive family medicine practice within the city of London and formed the London Family Health Team, which she served as the clinical lead from 2010-15.  She previously served as Lead Physician for the Shared Care Pilot Initiative and the Parkwood Palliative Care Unit at the Parkwood Hospital in London. Currently, Dr. Faulds serves as a palliative care physician with St. Joseph's Health Centre and is a staff family physician at London Health Sciences Centre. Since 1996, she has served as a clinical professor and mentor to undergraduate and graduate medical students at Western University.
Dr. Faulds has filled new roles as the VP clinical and the Quality Lead in the SWLHIN between August 1, 2017 and June 1, 2018.
Dr. Faulds has participated on the Board of the Ontario College of Family Physicians (OCFP) serving as Honorary Secretary-Treasurer in 2011 and 2012, President-Elect in 2013, and President in 2014-2015.  She concluded her term as Past-President in November 2016. She has served as a Director of the College of Family Physicians of Canada from 2013-17.  Dr. Faulds has also participated as a reviewer for Canadian Family Physician, Health Quality Ontario, Cancer Care Ontario and the Canadian Diabetes Association. She is currently an investigator for the IRPC of the College of Physicians and Surgeons of Ontario, and for 10 years she served as a disability assessor for Workplace Safety and Insurance Board. 
In addition to her experience with the CFPC and OCFP, Dr. Faulds has served on numerous committees at Health Quality Ontario on quality improvement plans and primary care metrics. She has served as Co-Chair of Family Medicine Alliance in Ontario, as well as, Director of the Thames Valley Family Practice Research Team in London. Dr. Faulds continues to do primary care research in areas of palliative care, chronic disease management and quality improvement.
Dr. Faulds has recently served on the Ontario Medical Association Negotiation team and the Primary care advisory committee.
Dr. Faulds is married to Tom, an Emergency medicine Physician and has two grown daughters Kelly and Jenn. She enjoys her time with family - hiking, skiing and golfing.
Cathy Faulds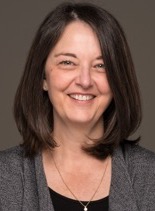 Associate Lead Physician, London Lambeth Family Health Organization