Mr. Garcia serves as the Managing Director for ABC Live Corporation, a global management consulting firm working with leading businesses, public sector entities, and not-for-profit organizations in the Americas, Europe, Australia and Africa. He focuses his efforts on helping clients develop strategies, plans, improve business performance, identify and capture global markets, and excel through Leadership, Innovation, Vision and Execution, particularly relating to Big Data Analytics, the Internet of Things, Cyber Security, Mobility, Health Innovation, and Communications.
Mr Garcia is an Adjunct Professor at the Schulich School of Business, York University (MBAN, Master of Analytics program), a member of the Board of Directors, Toronto 2015 PanAm/ParapanAm Games, and serves as Advisory Board member of the Schulich School of Business Analytics (York University), and the Ivey Centre for Health Innovation (University of Western Ontario). He has been a member of the Information Technology Association of Canada (ITAC) Cyber Security Council since 2006.
Mr. Garcia was a Senior Fellow at Bell Canada Enterprises, and the Chief Technology Officer for Hewlett Packard (HP) Canada, with responsibility for innovation management, emerging technologies, big data/analytics, mobility, health innovation, mobility and strategic technology partnerships.  He has been identified as a subject matter expert by industry groups, universities, clients, partners and media on diverse business and technology areas.  Mr. Garcia represented HP and Bell in industry groups, boards, conferences and associations world-wide, and was appointed as an advisor to the Ontario Minister of Innovation and the Ontario Minister of Economic Development and Trade.
As a senior business executive with Canadian and international experience, he has held executive management, trusted advisory positions and delivered large scale, complex projects in the Americas, Europe, Africa and Asia Pacific.  He was a member of multiple Federal and Provincial Government trade missions, including two Team Canada commercial missions to Latin America led by the Prime Minister of Canada, actively participating and sponsoring activities designed to improve business relations with participating trade countries and create collaborative joint ventures involving business, universities and governments.
He was selected and recognized as one of Canada's "Ten Most Influential Hispanic Canadians" in 2012, as one of "HP Americas" Most Valuable Players" in 2007 and nominated and selected as a finalist for the 1997 "Top 40 Under 40 Award", a program designed to recognize the achievements of outstanding Canadians under the age of 40.
Victor Garcia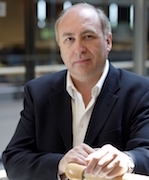 Managing Director, ABCLive Corporation