Lawrence National Centre for Policy and Management
Carol Stephenson, O.C.
Ms. Stephenson served as Dean of the Ivey Business School at the University of Western Ontario from 2003 until her retirement in 2013. Prior to joining the Ivey Business School, she was President and Chief Executive Officer of Lucent Technologies Canada from 1999 to 2003. She was also a member of the Advisory Board of General Motors of Canada, Limited, a GM subsidiary, from 2005 to 2009 and appointed an officer of the Order of Canada in 2009. 
Carol Stephenson, O.C.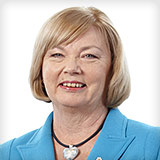 Retired Dean, Ivey Business School