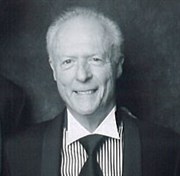 Veteran Toronto businessman and active participant in the Canadian policy landscape, Jack Lawrence, HBA '56, gifted $4.9 million to the Ivey Business School in 2001 to establish the Lawrence National Centre for Policy and Management. The gift was used to fund an expansion to the original National Centre for Management Research and Development of the Ivey Business School on the campus of Western University, and latterly the new Ivey Business School.
Jack Lawrence was a strong believer in corporate Canada's ability to affect the direction of public policy. Throughout his career Jack was vocal in expressing his view to government and was an active member of the Business Council on National Issues for many years. His gift has served as a locus for research and teaching on issues of public policy since 2002, when the Lawrence National Centre for Policy and Management was established.
Jack Lawrence was Chairman and CEO of Lawrence & Company, a venture capital, merchant banking and money management firm. Prior to that, he was Deputy Chairman of Nesbitt Burns Inc. and Chief Executive Officer of Burns Fry Limited and its predecessor companies, for more than 20 years.
Through Mr. Lawrence's endowment, the Centre has become a strong advocate for sound policy to ensure a powerful future for Canada. At the time, Lawrence said he was happy to make the gift because Ivey gave him an important start in his career and helped him achieve success, "I'm convinced that the Ivey Business School has the right image and profile to make this objective a reality. I'm glad to help Ivey provide similar experiences for future students and business leaders that this country needs." The Lawrence Centre "will provide a forum for the private sector - corporations, media, academia - to work with the government and actively participate in public policy issues… not only for their own benefit, but for the greater good of the entire country as a competitor in a global marketplace." 
The expansion program reflected Ivey's strategy to build upon its leadership position as one of the world's elite business schools.