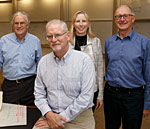 Teaching faculty: Richard Dicerni, Mary Crossan, Paul Boothe, Jean-Louis Schaan
Assistant Deputy Ministers and crown corporation VPs operate in a more complex, demanding and ambiguous environment than ever before. The changing roles of Ministers' offices and parliamentarians and legislators, the perceived collapse of the knowledge advantage that public services once had, the increase in scrutiny and oversight by third parties, and the shrinkage of budgets are all factors that are redefining the role, the scope and the accountabilities of senior leaders.
This program theme will assist executives in taking stock of these challenges and developing new leadership strategies to address them. Executives – in addition to being good managers – must lead and inspire. The program will provide senior leaders with tools to assist them in leading their organizations.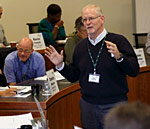 Admission to the program is through nomination by a Deputy Minister or a crown corporation CEO. The program is geared to individuals who have completed at least a year as an Assistant Deputy Minister (ADM) or a crown corporation VP in both federal and provincial governments who have the potential to assume further responsibility in their career. The program is designed to encourage participants to meet and exchange with their peers in other organizations.
Takeaways from Senior Public Sector Leader Program participants
"Of the many takeaways, two merit particular attention: the opportunity to build an instant network between the Public Services of Canada and Ontario at the Assistant Deputy Minister level, and the learning and reflection on leadership. My week at Ivey gave me the most substantial conversation on leadership that I have had in my career. It went far beyond the usual soft-skills discourse and was taught with analytics, rigour and depth or exploration. I suspect I will draw on that thinking for years to come."

—Michelle Doucet
Assistant Deputy Minister, Corporate Services Branch, Privy Council Office
"I was pleasantly surprised by both how well-structured and content-rich the class was. Professor Boothe and the supporting Ivey faculty have knocked it out of the park. I would recommend the Senior Public Sector Leader Program to my public-sector colleagues without hesitation."

—Tony LaMantia
Assistant Deputy Minister, Investment and Industry Division, Ontario Ministry of Economic Development, Employment and Infrastructure, Ontario Ministry of Research and Innovation
"The program structure allowed me to learn from and spend time with colleagues from both the federal and provincial government. I came away from the program with a renewed passion for leadership and a greater appreciation of common challenges faced across the different levels of government. The case-based learning approach was practical, tangible and relevant. The faculty were experienced, engaging and knowledgeable. Every public-sector leader would be fortunate to participate in the Senior Public Sector Leader Program."

—Diane McArthur
Executive Lead, Advisory Council on Government Assets