Urgency. Accountability. Transparency: Lessons from Maple Leaf Foods SVP Randy Huffman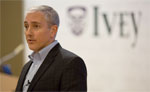 In the face of a major crisis, how an organization reacts under pressure can make or break its reputation, and its bottom line.
In firefighting or in business, if it can go wrong – it will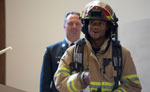 Allan Braatz, a Senior Captain with the City of London Fire Department, brought his 28 years of experience as a fire fighter to the challenges of business for HBA students in the BMO Financial Group Auditorium.
What makes Google "Googley"? Fab Donlan provides an inside look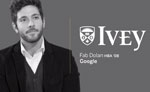 Imagine working in a rewarding environment where mentoring trumps managing and employees are empowered to speak their minds, not to mention playfully mock bad decisions, via a company-wide intranet.
Is there a better way to run a company? Mary Ann Beyster says yes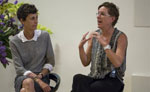 What better way to learn about the benefits of companies offering shared ownership and social impact as part of their strategies than to watch how they've progressed.