After graduating from the University of British Columbia in 2007, I started on an exciting path of video game development as a software engineer at Electronic Arts. Over the past two years, I led teams developing core systems and speech and human gesture recognition functionality on FIFA 13 and FIFA 14, Electronic Art's flagship franchise and one of the best-selling video games in the world. As I progressed through my career in the digital entertainment industry, I realized that my interests lie in learning how technology can help businesses grow and gain competitive advantage. Also, as part of this self-discovery process, I learned that it was important to me to be a part of the decision-making process that shapes the direction of the company and that I had the combination of interests and skills that would help me further develop in that direction. In order to achieve my career aspirations, however, I knew that I needed to polish several key components of career success: great network, polished interpersonal skills, and solid knowledge of major facets of business operation. After extensive research on business schools in Canada, I concluded that Ivey's culture, alumni outreach, and teaching methodology foster these qualifications as part of its core philosophy.

At the beginning of the program I was nervous about not having many prior business courses in my undergraduate program and leaving a workplace environment in which I was extremely comfortable. Once the MBA program started, however, those worries eased very quickly as I witnessed first-hand that the Ivey classroom consists of very motivated and diverse individuals that were pretty much in the same boat as I was — they had a promising career but risked leaving the workplace to further develop themselves both professionally and personally. I also realized that the MBA program schedule is constructed in a very optimal way in which the student is gradually introduced to the knowledge base required and that my prior technical background was not an obstacle at all. On the contrary, the scope of issues faced by managers is much broader than I had previously thought and analytical and technical skills are very valuable in an MBA program.

More than ever, today's world of business is full of uncertainties and ambiguities. It is a rapidly evolving environment where the business leader must possess one crucial skill that will determine the success of her or his company in the long run. This skill is the ability to make decisions under uncertainty and deal with ambiguity. Lack of information and time pressure are integral parts of the management decision-making process. When I applied to Ivey one of my key goals was to hone these skills. Once I started the program I witnessed the effectiveness of the case method in developing adaptability and open mindedness in a student. As I was going through various cases in operations, marketing, finance, and accounting I was learning about the major players in modern economy and the issues that those companies faced in the past. However I wasn't just reading those stories — I could shape the ending as part of the in-class discussions. A case tells you about a difficult situation but it is always a story with an open end where the MBA student is in the driving seat — the student must make a decision. The best part is that there is no single right decision — as long as you can justify your position with critical reasoning and analytics the decision will be accepted. This level of ambiguity can be frightening at first but after a short while it actually becomes a liberating feeling — you are not just reading static descriptions of problems but rather using them as the beginning of a fruitful discussion and extensive debate with your peers.

One moment I will never forget is when my team had to come up with a creative presentation for the Operations class. To some, Operations and Logistics is not always the most entertaining subject matter; yet our team needed to figure out a casual way to show issues involved in managing bottlenecks and capacity utilizations in a factory. In the end, my learning team built costumes made of large boxes to represent factory machines and overflowing inventory and played out a hilarious talk show. Arguing about whose fault it is, two "machines" almost started to fight during the show, resulting in a storm of laughter. The other learning teams in our section also came up with very creative and funny ways of illustrating management issues. The approaches ranged from pre-recorded videos to plays, songs, dances, and computer animations. This was the moment when I fully realized how high the calibre and quality was of the Ivey student body.
Education
Bachelor of Applied Science in Computer Engineering, University of British Columbia
MBA '14
Ivey Business School
Alexei Koulikov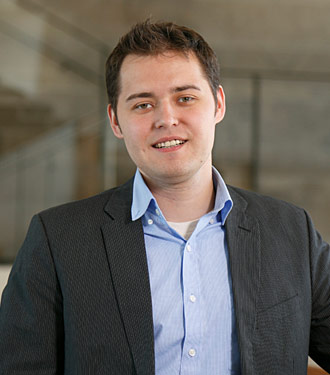 Kaluga, Russia