Before joining Ivey, I enjoyed my time working with the David Suzuki Foundation as well as at a large insurance company. Although I was passionate about the work I did, I wanted more responsibility and a bigger challenge. I wanted to push my limits and expand on my past accomplishments. I wanted to play a role in solving some of the most complex challenges tomorrow's leaders will face. I believed that this would require a strong understanding of both business and law. After researching my options, it became apparent that pursing a JD/MBA at Ivey was the absolute obvious answer.

After researching different MBA programs, it became clear to me that Ivey was the only business school I wanted to attend. Ivey's reputation is second to none, but, more importantly, Ivey best prepares students for life after the MBA. The Ivey Case-Method facilitates an environment where collaboration among students is natural. A typical day in the program has you working with your teammates to leverage prior experiences and backgrounds in order to tackle a specific business problem, and then defending your opinion in front of the class. This pushes students to think critically and speak confidently, two classic hallmarks of an Ivey alum.

The faculty at Ivey is a huge differentiator. All the professors are among some of the best I have had the privilege to learn under. They continuously challenge us and help facilitate personal growth. Not to be outdone, the Ivey Alumni Network is truly remarkable. Supportive, thoughtful, and generous would be the best three words I can use to describe the alumni network. They are always willing to take time out of their busy schedule to help you out, whether it is through a coffee chat or facilitating a strategic introduction.

Ivey has been one of the most challenging experiences of my life, but it has easily also been the best decision I have ever made. When most students pursue an MBA, they expect to gain a fundamental understanding of business. Ivey provides so much more than that. At Ivey you become part of a family that goes the extra mile to help you progress to your dream job, and, more importantly, to the person you want to be.

Going forward, I am confident that I will be able to deal with the challenges that lie ahead. This sense of confidence comes from the strong skill set I have developed at Ivey. I know that I will always look back on this experience with a great sense of appreciation and fulfillment.
Education
B.Sc in Global Resource Management and Development, University of British Columbia
MBA '16
Ivey Business School
Arash Param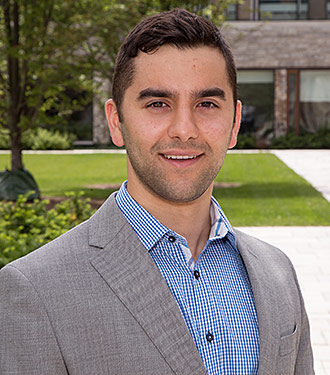 Vancouver, British Columbia