Prior to joining the Ivey MBA Program I gained experience in the construction, building materials, manufacturing, and mining industries, most recently working for a national heavy equipment dealership. While completing my undergraduate degree I knew that I would eventually pursue an MBA so I decided to take opportunities that would allow me to enhance my technical skills.

Given my industry experience thus far I have come to recognize what sets an effective leader apart. It is not only the knowledge and skills that they possess but also, and perhaps more importantly, their ability to communicate strategy and vision effectively. While researching business schools I knew that I wanted to apply to the school that best prepared its students for potential leadership success and had a strong reputation in the market. Ivey fulfilled both of these criteria. The case-based learning method at Ivey encourages students to engage in analyzing issues that businesses face and students are pushed to think critically, speak confidently, and act with integrity when proposing solutions. This level of preparation is not easily replicated and is a definite asset to Ivey alum.

The dynamic between the students, staff, and faculty at Ivey is unique and quite impressive. The smaller class size creates a tight knit community and the diversity of the class, in terms of industry experience and geographic backgrounds, allows you to gain perspective that you may not have considered before. The faculty at Ivey are top tier, bringing a wealth of industry and academic knowledge into the classroom.  Interactions don't just stop in the classroom as faculty are always more than willing to have one-on-one or group meetings with students. The program and career management staff work directly with students on a regular basis to ensure your time spent at Ivey is fulfilling and that you are always on the right path to achieve your personal career goals. There are a tremendous number of extracurricular activities that students can get involved with, including industry specific clubs, general interest clubs, and sports teams. I am a member of multiple industry clubs and sports teams and this has allowed me to build great friendships and a strong network.

My advice to prospective students is to first consider what your long-term goals are, identify the strengths that you currently have, and then identify the gaps that you need to fill to achieve your goals. In terms of my career goals, Ivey was an easy choice as it offered best in class in all of the areas I needed to focus on. Take part in as many clubs, sports, academic competitions, and opportunities to travel that you can because it will be quite rewarding and will enrich your overall learning experience.
Education
B.Sc Mechanical Engineering, Queen's University
MBA '14
Ivey Business School
Blair Carpenter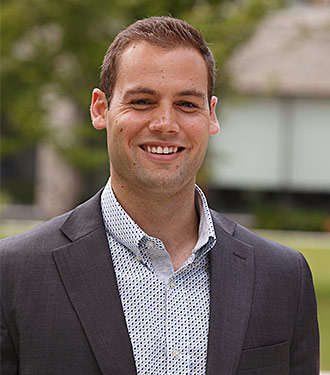 Oakville, Ontario