Before coming to Ivey, I completed a Bachelor of Law degree in Shanghai JiaoTong University and a Master's degree in Intellectual Property and Technology Law from Washington University in St. Louis. After my Master's, I was fortunate to get exposure to a wide range of projects through my roles at a lobby firm, a consultancy, and government in Washington D.C., Shanghai, and Beijing. Just prior to coming to Ivey, I was with the Ministry's Intellectual Property Management Office executing national intellectual property campaigns across China to shape some of the higher-level patent portfolio management and strategic development plans for industry corporations.

In 2014, I was assigned to a public private partnership project initiated by the European Union to promote inter-governmental dialogues and business cooperation on intellectual property protection related matters between the two countries. The project really piqued my interest in global business and I decided to go back to school for an MBA and build a better foundation in business management.

After attending Ivey information sessions, talking to alumni, and reading the student blogs, I was quite impressed with the school's strong alumni network and collaborative culture. In particular, I was convinced that my law school background would mesh well with Ivey's Case-Method Learning experience after the First Class on the Road in Beijing.

Entering into the program, Ivey has exceeded my already high expectations in many ways: the career management advisor who is extremely committed to prepare each student's career success from day one, the variety of clubs ranging from consulting and finance to golf and culinary, the engaging class environment where high-quality discussions and conversations happen every day as well as the Case-Method Learning, which is the most practical way to simulate the real business world and to make high-level managerial decisions.

Ivey's one-year program is definitely fast-paced and challenging. In the first four months, my classmates and I have shared a number of incredible experiences from Get Connected to the McKinsey Competition and are wrapping up some of the core courses. Even with such a heavy work load and many school priorities, my classmates and I are highly committed to extracurricular activities from club events to social gatherings, through which the entire class stays close.  I can confidently say that this year will be one of the most special and transformational times for me to build friendships, achieve career advancement, and create memories that will last a lifetime.
Education
Master of Law in Intellectual Property and Technology, Washington University School of Law
Bachelor of Law, Shanghai JiaoTong University
MBA '16
Ivey Business School
Clemence Chen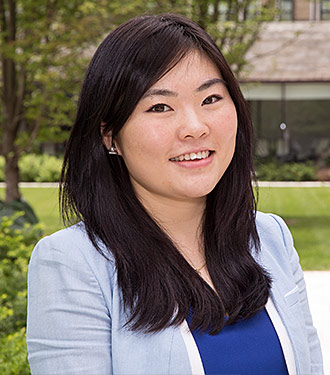 Shanghai, China