Upon completing my undergraduate degree, I joined an oil and gas construction firm in Calgary in their rotational management trainee program. Very quickly, I found myself presenting my ideas and discussing methods to improve our business practices with senior management. From developing business models to managing budgets for projects worth over $500M, I gained experience in a wide variety of functions and roles within my company on the project sites and also in the corporate office.

I applied the skills I learned from my undergraduate degree and also furthered the development of the technical aspect of the business. However, I soon found that I wanted to grow my skill sets and knowledge to be able to have more insightful discussions with the leaders in my company. After much thought, I found that an MBA program would complement my education and experience to help me move into the next stage of my career.

My primary goal from an MBA program was to develop my skills and a strong network of individuals, while working alongside high calibre students and faculty. Before even starting my research, I found myself drawn to the insights and the skills of my managers who were graduates of the Ivey MBA Program.

Ivey has exceeded my expectations on many levels and I am very pleased to have chosen it. The faculty and staff are very supportive and reach out to students whenever there seems to be decline in participation in classes. Despite having done an undergraduate degree in business, the case methodology put me in the shoes of a CEO and challenged me to make a decision while grappling with the circumstances at hand. Additionally, the open, collaborative, and comfortable environment that has been created in the classes allows for everyone to contribute to a healthy discussion and allows me to learn from my classmates' past experiences and insights.

Beyond just the learning and the classroom, I have met many amazing individuals who have become my good friends. Additionally, with a smaller class size, we all interact with each other very often. It is considered odd if someone, after a month into the program, still does not know the names of some of our classmates. I have been able to build relationships not only with our classmates but also with the professors, who join us at our events and are always available to have conversations outside of the classroom. Though this year is going to be short and quick, I am glad to be part of this school and the people here.
Education
Bachelor of Commerce, Finance and International Business from Queen's University
Certified Cost Engineer - American Association of Cost Engineers International
MBA '16
Ivey Business School
Deepali Goel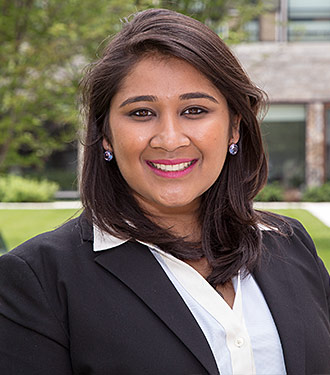 Calgary, Alberta