Ivey was the responsible choice for me to make because of its excellent reputation. But as soon as the program began, I realized it was also the right choice for me to make because of its outstanding faculty and students.

I am passionate about digital communication in business and law. This came about as the result of a unique and diverse set of professional and educational experiences.

I completed an undergraduate degree double majoring in Economics and Political Science at McGill. I took a break mid-degree to live and work in Ottawa as the National Director of the Young Liberals and later in the office of Prime Minister Paul Martin. So after graduating, it made sense to move back to Ottawa to work further in politics, where I began to specialize in digital communications and the burgeoning field of social media.

After leaving politics I put my statistics background from economics to use at a market research firm, The Gandalf Group. Canadian public opinion was clear — the future of information consumption was social media. This motivated my move to become the Director of Social Media at GCI Canada, a public affairs and public relations firm.

I loved the diverse and engaging work, research, and thought leadership, but wanted to be able to offer my clients and the Canadian business world more. Social media was providing an opportunity for Canadian companies to go back to an older form of direct and meaningful customer contact, with authentic personalization. Unfortunately, it wasn't always within the parameters of the law. Social media was innovating faster than the law could keep up. It is my dream to be the first corporate social media expert with a firm background in the current law and a clear vision about where it should go.

When evaluating joint JD/MBA programs, I considered going home to Western Canada or returning to Quebec to study. Ultimately, I chose Western University Law and the Ivey School of Business at Western University because both programs offered top-in-their-field education as well as small class sizes, accessible professors, and hands-on career placement.

Neither the law school nor Ivey has disappointed.

The feeling of an Ivey MBA classroom is like nothing I have experienced in my professional or academic life to date. The classroom dialogue is electric. The professors are positive, approachable, and genuinely committed to teaching us both to be excellent business professionals as well as responsible business community citizens. The Ivey mission statement is no joke. Everybody lives it every day.

The biggest and best surprise has been my fellow students at Ivey. They are an incredible, inspiring, and supportive group of people. They go out of their way to help one another, from study groups to carpooling to general positive feedback on activities, comments, and presentations.
Education
Bachelor of Economics and Political Science, McGill University
MBA '14
Ivey Business School
Denise Brunsdon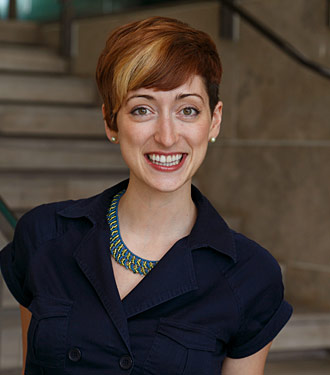 Port Coquitlam, British Columbia