When I started my career with Xerox Canada Ltd. after completing my undergraduate degree at McMaster University, I was fortunate to take advantage of opportunities in a number of different functional areas. This contributed to a holistic corporate and business experience. After four years in the workforce I felt ready to expand my knowledge outside of the technology industry and to engage with like-minded leaders with diverse backgrounds, perspectives, and skillsets.

While researching different MBA programs, it became clear to me very early that Ivey offered the most unique program in Canada, with one of the strongest reputations. The Admissions staff was very responsive, quick to answer any and all questions that I had about the program, and found ways for me to continuously engage with the Ivey community throughout the MBA application season. Ivey offered one-of-a-kind prospective student engagement sessions, such as sample classes and Women in Management events; something that I could fully appreciate in a program for me. I even had the pleasure of meeting with one of the Admissions team members for a coffee in Toronto where I worked, which showcased Ivey's dedication to seek out candidates for its MBA program.

I knew when I entered the building on my first day that Ivey was exactly where I needed to be at this stage in my career. The intimate class size allowed for strong friendships to be formed early, and becoming familiar with people on a first-name basis and being able to learn and remember personal details about one another truly enhanced these bonds. It was obvious, too, that in having a smaller assembly of students, Ivey showed it was committed to bringing the highest calibre of students into its alumni network; my class is a perfect example. For someone like me who, even while working, loves to get involved, Ivey provides a number of different leadership opportunities for those with a variety of interests. As President of the Marketing, Sales & Retail Club, as well as one of the Social Representatives on the MBA Association (MBAA), I have been able to impart knowledge and experience to my classmates, bring the class together at social gatherings outside of the classroom, and engage with industry professionals and recruiters alike.

Learning through the Ivey Case-Method requires students to think at a higher managerial level in which decision-making is critical. It helps students to embrace ambiguity and challenges them to be confident in defending their positions while being open to unique individual perspectives. The faculty is fantastic at facilitating these discussions and encouraging high-quality class participation and conversation. The case method is the most practical way to simulate what occurs in the business world, and in choosing Ivey you are choosing to create an opportunity to meet challenges head on and develop skills as a leader that set you apart from the rest.
Education
Honours Bachelor of Commerce, McMaster University
MBA '15
Ivey Business School
Francine Sheremeta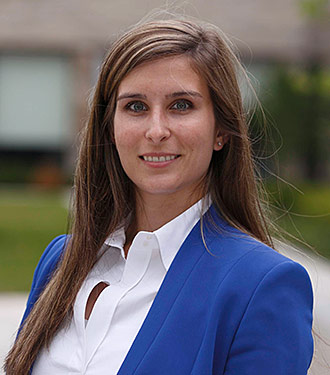 Mississauga, Ontario