I was sitting at my desk one morning in early 2012, working as a civil engineer at an iron ore mine site in the middle of Western Australia, when I learned that the company I was working for was going to lay off 75 per cent of its workforce. The upcoming presidential election in China caused uncertainty in demand for commodities; short-term iron ore prices softened, the company's cash flow dried up violating the bank's debt covenants, and the company's shares went into a trading halt. It was at this stage that I realized I was more interested in the business world than the engineering world and that I should pursue a career in business management. I knew an MBA was necessary to make that happen, but of course deciding on a school was going to be a tough choice.

After doing some research on MBA programs in Australia, Canada, the USA, and even Europe, it was Ivey that stood out above all other schools. It offered a one-year program, the case-based method of teaching, and a strong alumni network. After talking to friends in consulting and banking in Toronto and realizing what a great reputation Ivey grads had there, I decided to visit the campus and see what the school was all about.

On my first visit to Ivey I met with career management personnel who were just as excited to see me as I was to see them. I was invited on a tour of the new building, attended a marketing class, met a professor and some current students — and I was sold. At Ivey I wasn't going to be paying $80,000 to learn Business 101 from an old, boring professor in a 300-seat lecture theatre all for the sake of getting a respected business school name on a piece of paper. The classes were small, the students were engaged, the professor was lively, and the class debate was interesting. They even let me participate in the case discussion as a prospective student during my visit!

It's now a few months into the year and you can tell it's a very well-planned and well-run program. After starting out with some accounting and economics courses the program starts to build with finance, operations, and marketing. Pretty soon the cases blend and you learn about the accounting issues in an operations case and about finance issues in a marketing case — just like business problems in the real world. But there is more to Ivey than just the class material; there are plenty of student-run clubs, programs and seminars, and sports teams and social events. There are chances to go on international study trips, participate in the China Teaching Project, and take part in the Ivey LEADER Program.

Ivey is a school where you get out of it what you put into it. There are plenty of opportunities here; just come prepared to work hard and contribute and the program will pay dividends — in both your personal and your professional life.
Education
B.A.Sc Civil Engineering with a Minor in Commerce, University of British Columbia
MBA '14
Ivey Business School
Gerrit Kamps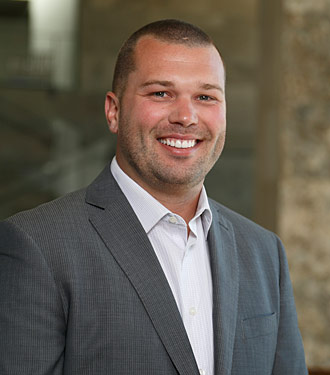 Vancouver, British Columbia