The biggest challenge of my life so far — that's what the Ivey experience represents for me. Right now, I am so far out of my comfort zone that I doubt I will ever see it again, and I couldn't be happier.

Before I became part of the Ivey family, I enjoyed my time working as a Transportation Engineer on a diverse range of public and private sector projects in Canada, Ireland, and the UK. The work I did was hugely rewarding and made a real difference in people's lives, but I wanted to do more. Specifically, my goal is to apply my knowledge and skillset to the business environment and make a deeper and broader impact on the world I live in. With those goals in mind, Ivey was the natural choice for me.

The Ivey MBA is a transformational experience on both a professional and personal level, which changes not just what you know, but who you are. As an engineer, I am constantly learning new skills from my classmates that complement my own analytical strengths; similarly, I strive to share the benefit of my own skills and experiences with the class, to improve the overall learning experience. The Ivey Case-Method facilitates this knowledge-sharing like no other learning program I know.

When I entered the Ivey classroom for the first time, I distinctly remember the mixed feelings of overflowing excitement and sheer terror as I thought to myself: "Just look at the people I am sharing this room with! They are all heroes — what am I doing here? How did I get in?" By the end of the first week, I realized that we were all thinking the same thing. In retrospect, I understand that my emotions were entirely normal. In this kind of company, to think otherwise would be almost arrogant. My nervousness subsided as the weeks passed and we got up to full speed in the program, but as I write this, I know that a little bit of nervousness will remain with all of us until the very end. The class became lifelong friends almost instantly, but as a collective we are still outside of our comfort zone. We all want to 'pull our weight' in the cases, discussions, and the 24-hour reports. Every day counts, and it is this thought that crosses my mind every morning, as I open the Ivey front door to take another step on my journey.
Education
Honours Bachelor Civil Engineering - National University of Ireland, Galway
MBA '15
Ivey Business School
Graham O'Neill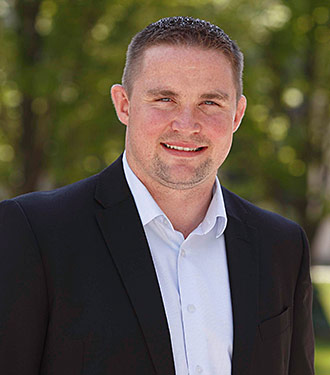 Galway, Ireland