I am a firm believer that anything can be achieved with a definite goal in mind, and graduating from the Ivey MBA was one such goal I set for myself a few years after completing my undergraduate education.

I am an Aerospace Engineer by training and realized within a few months after graduation that my passion lay in the world of business and not in engineering. I have since worked in Management Consulting and decided to join the Ivey MBA Program to enhance my business acumen and skills and to experience what was described to me by past Ivey MBAs as the best year of their lives.

Having spent a few months at Ivey thus far, I can already see my personal transformation materializing and am well on track to having the best year of my life alongside a phenomenal group of smart, accomplished, and insightful individuals here at Ivey.

The global business landscape has evolved into a careful blend of theoretical principles and practical applicability. Being a successful player within this landscape requires one to understand the secret formula involving both these ingredients, and to apply it on a consistent basis. Due to the nature of my past academic and professional experience, I fall on the experiential side of this see-saw and therefore see business problems that arise in class from a practicality perspective.

Each Ivey MBA class is built to contain just the right mix of theoretical and practical perspectives, such that upon graduation, each Ivey MBA has learned the secret formula to being a successful business leader and possesses the knowledge and the tools required to do so.

The Ivey Case-Method of learning is a revolutionary knowledge transfer methodology that examines real-world business problems and situations through case studies. Upon joining the program and experiencing my first few cases, I was amazed by the rate at which I was learning material that was completely new to me considering my background in engineering. I found the case method to be extremely successful primarily because of the fact that the aspect of 'learning' is detached and occurs automatically through the primary objective of solving a particular business's real-world problems.

Ivey's case method has placed me in the shoes of the protagonist in real-world business cases and has forced me to think about how I would solve the issue being presented, as if it were my own business. The in-class discussions that go hand-in-hand with the case method of learning have also helped develop a sense of close community within the class and have enabled me to build strong and lasting relationships with these future global business leaders.

Finally, Ivey professors have pushed me to think on my feet and be decisive based on my analysis of the problem, all traits that I am sure will prove invaluable once I return to the business world as a future leader.

Upon graduating from Ivey, I plan to continue my career in Management Consulting, with a focus on Corporate Strategy, Finance, and Entrepreneurship. It has also been my long cherished dream to start and grow my own entrepreneurial venture in the long-term.

Based on my research, the Ivey MBA Program is the only MBA program in Canada that can provide me with the intellectual flexibility and rigor, the ability to think on my feet and devise solutions to business problems that may arise from any area of a business, and the global network of business and thought leaders that are required for me to be truly successful in my career in the long run.

I am currently four months into the program, and have enjoyed and cherished every minute of it. I look forward to the remainder of the program with just as much excitement.
Education
B. Eng, Aerospace Engineering with Specialization in Operations and Business Management Science, Ryerson University
MBA '14
Ivey Business School
Jacob Avinash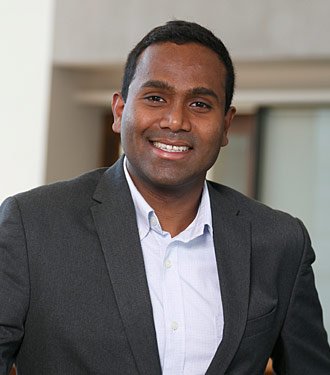 Toronto, Ontario