I am an engineer by training; I hold a Bachelor's Degree in electronics, as well as Masters Degrees in control systems and industrial management from universities in my home country, Spain, and the UK. I spent the last five years before joining Ivey as a testing engineer in the defence industry on missile and drone projects for the European military forces. The trials I was involved with required multidisciplinary coordination from technicians to business support — dealing with the idiosyncrasies of government and private institutions in a multinational project and accommodating their different goals and working cultures.

This experience provided me with a holistic view on high-tech defence engineering projects, from the initial requirement to the final testing and qualification. I enjoyed working hands on across military bases and testing sites, but I also felt really comfortable dealing with logistics, organization, and resources issues. This experience led me to realize that I needed to gain the knowledge required for leading organizations and making managerial decisions if I wanted to move up in my career. This is the fundamental reason why an MBA was the next step for me.

I hold a global view for the business landscape, envisaging the future as fast- changing and uncertain scenery. With this approach in mind I understood an MBA from a North American perspective would complement, and at the same time challenge, my European bias and my strong engineering background. I felt Canada was the place I wanted to form as a manager, not only because of its international and powerful economy, but also because of its sustainable approach to society and environment. Because of its reputation and network, Ivey was the business school I wanted to join.

As an empirical learner, Ivey was the business school for me because of the real hands-on experience the Ivey Case-Method provides. A few months now into the program, I am fully convinced that Case-Method is the way to learn business. It is a learning-by-doing approach, and the perfect way to improve decision-making, quick thinking, and analyzing skills, by using real life examples.

The international character and diversity of student backgrounds and experience at Ivey resembles the international outlook I hold for the future and enriches the learning experience by providing many different approaches and solutions to every case. Getting to know my classmates has made me more humble as I feel overwhelmed by their achievements and diverse experiences. The interaction opportunities reach far outside the classroom expanding to visits, events, speakers, clubs, sports, and social life.

Ivey's one-year MBA Program is a demanding learning curve experience that has pushed me out of my comfort zone; but as payoff I am more self-confident and ready to take on future responsibilities and challenges I could not have imagined before.
Education
Bachelor of Engineering - Electronic, Universidad de Oviedo
Master of Science - Control Systems, The University of Sheffield
Master of Engineer - Industrial Management, Universidad Politécnica de Madrid
MBA '15
Ivey Business School
José Diaz Fernanz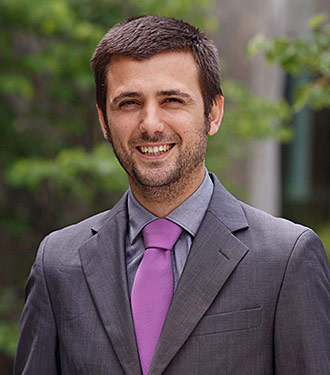 Asturias, Spain