After graduating from Western in 2009 with an Honours Specialization Degree in Psychology, I began working as a marketing coordinator for a small business and came to realize that while many entrepreneurs are adept at working in their businesses, they tend to lack the knowledge required to effectively market their businesses in a way that allows them to prosper. Never one to let an opportunity pass by; I sought to increase my knowledge about the most powerful marketing strategies being used today. I joined a mentorship program taught by some of the world's most successful and well-known entrepreneurs and, with this knowledge in hand, founded a marketing consulting company dedicated to helping businesses in a wide range of industries flourish to their fullest potential.

Enamored by the entrepreneurial mindset of bringing solutions to real-world problems, I founded and co-owned a number of other new ventures, including a location-based social media application for iPhones and Androids, and a cell-phone charging kiosk business. As a result of my experiences, I also had the opportunity to teach sales and marketing as an associate professor at a local college, but I knew that the breadth of my knowledge could grow further if I completed an MBA.

With such an eclectic background, there was no question in my mind that Ivey would be ideally suited to my goals. The case-method approach has allowed me to examine a wide number of business scenarios from a practical, real-world perspective, much like I would do as an entrepreneur. In the real world, decisions have to be made based on ambiguity, and Ivey creates leaders who are taught to do exactly that.

Because of my passion for innovative, outside-of-the-box thinking, I had some initial reservations about my ability to fit in at Ivey, believing that there was a "mold" that I would be expected to conform to. Nothing could have been further from the truth. My classmates and professors have proven to be some of the most compelling, innovative, accepting, and ingenious individuals that I have ever met. The wide range of backgrounds in the classroom speaks for itself, but further to that, I have already had the opportunity to network with some incredibly interesting alumni who have graciously welcomed all of us into "the Ivey family" and been willing to offer their help and thoughtful advice whenever needed.

At Ivey, there is no one-size-fits-all approach. We are encouraged to think "big picture," to speak up, to debate, to come up with solutions, to make decisions, and to lead. To say that Ivey does things differently is an understatement, and I now understand fully why Ivey grads are able to accomplish so much. As Walt Disney once said, "If you can dream it, you can do it" and there is no better way to describe the culture here at Ivey. The sky is the limit.
Education
Bachelor of Psychology, Western University
MBA '14
Ivey Business School
Krysten Milne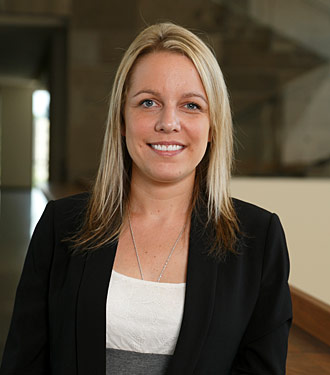 Sarnia, Ontario