My connection with Ivey began when I worked as a GMAT instructor for Kaplan Test Prep & Admissions. Many of the test-takers I coached aspired to attend Ivey, and through discussions with them I became intrigued by the unique learning style and strong sense of community that the Ivey MBA program is known for.

A natural curiosity and a strong interest in the health sector drove me to pursue a Ph.D. in biochemistry at McGill University, where my research focused on developing a new way of combatting antibiotic resistance. About a year before wrapping up my Ph.D., I made the decision to leave academia and pursue a career in consulting, and Ivey presented itself as an ideal transition.

Being the only MBA candidate this year from a predominantly academic background, I definitely had reservations about how much I could contribute to class discussions next to my peers who all had considerably more industry experience. When the program kicked off in April, I quickly realized that my reservations were unfounded and that it is precisely the individuality of each person's experience that sparks the most compelling discussions. I continue to be impressed by the breadth and depth of knowledge that my peers bring to the classroom, and it is that carefully balanced diversity that makes studying at Ivey such a rewarding experience for me. Having lived in China, Sweden, Germany, and Canada, I felt at home among an international group of students. The tremendous variance in culture, industry, and functional expertise has been a rich source of learning for me at Ivey. The Ivey Case-Method turns the class each day into a collaborative learning environment, where everyone interchanges between the roles of teacher and student.

The strong focus on application is also well suited to developing teamwork and leadership capabilities, which were among my major objectives coming into an MBA program. Whether it is debating challenging business problems with my learning team or stretching our skills during case competitions, much of my learning so far at Ivey has taken place outside the classroom. The relatively small size of Ivey's MBA cohort means that virtually every student has the opportunity to take on leadership positions in clubs, on the student council, or in other capacities. My experience at Ivey has been immensely enriched through various extracurricular positions, including a VP Internal role with the Health Sector Club, a position on the board of the Southwest Ontario chapter of the Canadian College of Health Leaders, and, most recently, the opportunity to represent the school as one of this year's Ivey Ambassadors.
The Ivey experience is immersive, challenging, and unique for each individual. Ultimately for me it is about getting the most out of fifty-one weeks for my career and my personal development, while making an impact on the Ivey community. So far, my expectation have only been exceeded.
Education
Bachelor of Science; PhD in Biochemistry (in progress), McGill University
MBA '15
Ivey Business School
Kun Shi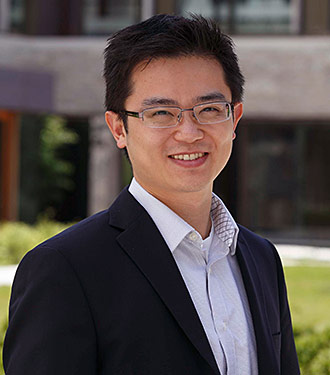 Beijing, China