I decided that I would pursue my MBA when I was in my third year of an Honours English undergraduate degree at Western University. While I knew I could write, communicate, present, and think critically, I also knew that I lacked the real-world experience that would allow me to contribute in the MBA classroom. When I completed my undergraduate degree and began my career I sought out roles that I felt would help me gain the knowledge and experience I required to make me a desirable MBA candidate. Since graduating, I have held roles in recruitment, non-profit, and strategic initiatives and project implementation at a financial institution. I knew I was ready to take the next step in my career — to stretch myself and transition to a new industry — and so began my search for the right MBA program.

What particularly impressed me about Ivey's MBA program was the strong alumni base, the timeframe (one year versus two), the case-based learning style, and the strength of the career management support provided. Ivey was a natural choice for me and when I received my acceptance phone call I was extremely excited — but then the anxiety set in. I was worried that my arts degree would be a hindrance to my ability to succeed in such a competitive program. I wondered if taking a year away from work was the best path for me to take. I was worried about leaving my friends and family and the unknown that comes with starting in a new place with new people.

Once the program started, however, most of these thoughts were eliminated. I quickly learned that I am not unique in my educational background. While the class has numerous commerce and engineering undergraduate majors, there are almost as many who come from 'atypical' backgrounds such as science, arts, and medicine. I learned that I am able to add value through my experiences in as meaningful a way as those who have already worked in consulting or finance.

I already see that this is the best path for me to take to accelerate my career. I'm amazed at the amount I have learned at Ivey thus far from both the professors and my classmates. Ivey doesn't just teach you how to solve a business problem; Ivey teaches you how to approach ambiguous business problems and structure your thinking in a way that enables you to 'crack' the issue. Ivey teaches you the value of collaboration and diverse perspectives.

And when it comes to leaving family and friends? I definitely miss them but coming to Ivey created another family for me. I am constantly in awe of and inspired by the people in this program. They are incredibly smart, talented, and driven and are without a doubt some of the most fun people I have ever had the good fortune of calling my friends.

As for my career post-MBA, I know that my decision to come to Ivey was the right one for me and that I will leave here better equipped to handle the challenging roles I will face in my career. I know that we will all graduate more confident in our ability to be valued contributors in whatever capacity we choose to work.
Education
Honours B.A. in English, Western University
MBA '14
Ivey Business School
Leslie Shaw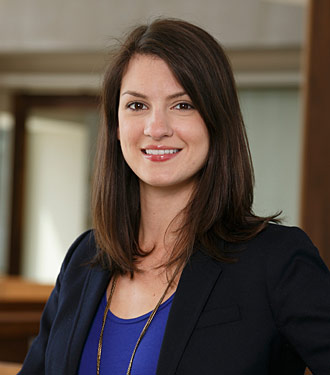 Toronto, Ontario