I consider myself fortunate to join a growing number of Ivey MBAs with military service. In my early high school years, I knew that I wanted to have a positive impact on the world around me and, soon after, became drawn to a career in the armed forces. I eventually enrolled at the military college where I pursued an engineering degree, learned French, and underwent extensive military training. All the while, I discovered the officership qualities of integrity, loyalty, conduct, dedication, and courage. Abiding by these qualities allowed me to successfully earn both my commission as an Army officer with the Canadian Military Engineers and the honour to lead combat engineer soldiers in Afghanistan. Serving at war and across many roles in the Army allowed me to develop my leadership style and taught me to solve complex problems in less-than-perfect situations.

However, as time passed, I began to feel that I needed to go further. While I had learned to lead the best people in unique and demanding environments, I felt the urge to better understand the business world. I wanted to extend my skills in order to continue leading teams. Unfortunately, it was difficult for me to simply explain my army experience to potential employers, so I sought another way. After extensive research, the Ivey MBA emerged as the ideal fit to help translate my past while getting an education from a well-regarded business school. I had very little knowledge of topics like accounting and economics so I felt the Preparatory Knowledge Program (PKP) would bring me to a good starting point. Also, my need to participate in an active and engaging learning environment meant the Case Method was the right teaching technique for me.

Having spent nearly a decade in uniform, I was uneasy that my views coming to Ivey would be different from my peers. I did not know if I would feel out of place or, worse, be unable to contribute to the class. This uneasiness soon vanished as I realized over PKP that just about everyone comes to Ivey with a unique background and perspective. Most remarkably, the Case Method quickly highlighted our strengths and weaknesses. Amongst my peers, I found common values and outlooks within the diverse backgrounds. In fact, this combination of commonality and diversity in the class is what makes the Ivey MBA so exceptional to me.

The pleasure of being here amongst other former and serving military members encouraged the founding of the Ivey Veterans Group. Our goal is to share our experiences while assisting other veterans' transition to and from Ivey. Without fail, Ivey has been an enthusiastic supporter of our goal and all veterans.

In time, I believe Ivey will strengthen my skills and values. I know that I will continue to learn from Ivey, my peers, and my past as I strive to join the business world.
Education
Bachelor of Mechanical Engineering, Royal Military College of Canada
MBA '14
Ivey Business School
Lu Li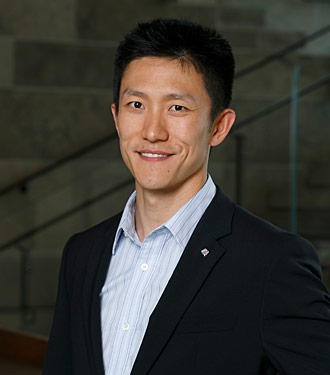 Mississauga, Ontario