My road to Ivey began serendipitously at a dinner with a friend who had recently graduated from the MBA program. Surrounded by his classmates, I was enraptured by their camaraderie and positivity as they recounted their experiences with me. This made a very lasting impression and caused me to investigate Ivey further.

I decided to attend a class visit where I witnessed first-hand the benefits of Ivey's Case-Method Learning. I have always learned best by doing and I believe analyzing real-world scenarios in a collaborative learning environment will provide me with the ability to learn from the experiences of my classmates and also from the expertise of Ivey's faculty. I hope that with my background and experience, I can bring a very unique perspective to the classroom.

My undergraduate degree provided me with a solid foundation that allowed me to blend my technical outlook with business methodologies and being part of the co-operative work program also provided me with practical work experience that helped me to draw on my academic studies to analyze and solve real-world business problems.

Prior to joining Ivey, I worked at Ontario's public safety regulator, Technical Standards and Safety Authority (TSSA). My primary responsibilities in Stakeholder Relations included managing policy and regulatory initiatives, liaising with stakeholders and government bodies, and developing issues management and communications strategies. I acquired a breadth of skills at this unique not-for-profit delegated administrative authority that also provided me with a sense of contribution to ensuring public safety in Ontario.

While my work experience had provided me with valuable skills and experiences, my pursuit of knowledge has always been continuous and ever evolving. I had always known that I wanted to pursue a graduate degree but it was something I thought was intangible and in the far-distant future. I soon realized that I had reached a critical juncture in my career trajectory and that I should pursue more formal education to supplement and further enhance my knowledge of business management.

Looking back, I can pinpoint the moment when I began my journey to Ivey. What began as a dinner culminated with me joining the Ivey family and I've been enjoying every moment ever since. Upon graduation, I hope to use the skills I acquire at Ivey to supplement my experience and transition into a career in consulting. The experience and skills I bring from my previous role in policy and issues management are very similar to those required in consulting. I have always enjoyed problem solving and I hope to work with companies to assist them in tackling the challenges and opportunities they face.

As I complete my journey here at Ivey, I know I will have made some lifelong friends and acquired the skills I need to become a successful business leader. Every day, I stand in admiration of my classmates and the perseverance they have to pursue their dreams. Strength comes from the courage to be able to take the next step. Everyone has that defining moment that changes the course of his or her life and I can definitely say that mine was coming to Ivey. I can only hope that your decision to join the Ivey family will be as easy as mine.
Education
Honours BSc Science and Business, Minor in Economics, University of Waterloo
MBA '14
Ivey Business School
Maileen Gan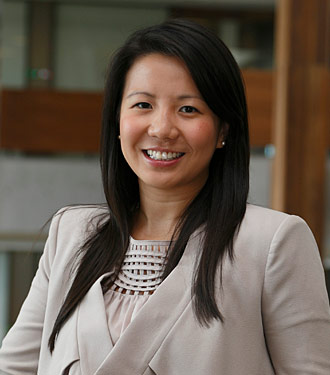 Toronto, Ontario