When I started my career with a boutique consulting firm after completing my undergrad degree in Bogotá, I had the opportunity to learn from diverse industries and functional areas. I travelled around Colombia working in consulting projects before moving to the health care industry and realizing the opportunities and the impact that I could make for my country. After four years of experience I wanted to expand my professional knowledge and leadership skills while obtaining global perspective of business outside Colombia, which would support me to start my own business in the near future. I decided to pursue a top MBA program that would help me to achieve my objectives.

Since I wanted to study my MBA outside Colombia and with those objectives in my mind, I started deciding which program was the best fit for me. I found that Canada was diverse and inclusive, had a great system to attract talented people, and offered amazing opportunities for international students that are not easily found in other countries. I knew that as an International student I needed a university with an outstanding career management department and at Ivey we start to work on our career objectives from day one in a personalized manner. Career management does an excellent job helping us with our resumés and interview prep, as well as organizing networking events. I wanted a program that gives a global perspective of business and Ivey provides the opportunity to travel to China, India, or different countries in South America to explore how businesses are run in these places.

When I arrived at Ivey, I was not sure what to expect from the Case-Method Learning experience and how much I was going to learn from each case. I knew it was going be using real business issues but I did not realized how holistic the learning experience would be. Using the case method we not only apply the concepts that we learned from reading the book, but we also improve our decision- making abilities and are forced to leave our comfort zones to support our position. This helps us to improve our public speaking skills while also learning to work in teams.

One of the things that I think makes Ivey different from any other school is its people. I knew that since I was coming to one of the most prestigious programs in Canada I was going to find talented people with amazing backgrounds, but I was surprised how everyone is willing to help each other. For our accounting exam, some of our classmates with accounting experience prepared an optional review session for the whole class. Now that we are preparing for recruiting season we can see how everyone is helping each other for the interviews even though we may be competing for the same position.

 It has been only four months and I can see how everyone has grown in this time. I cannot imagine how much we will learn and accomplish by the end of the program.
Education
Bachelor of Science in Industrial Engineering
MBA '16
Ivey Business School
Mauricio Valderrama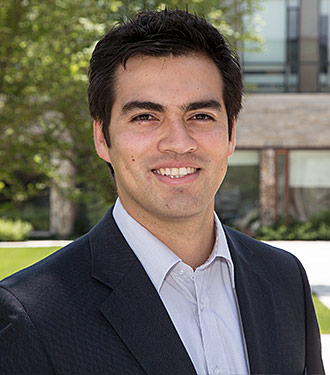 Bogotá, Colombia