After spending an unforgettable year working in marketing strategy for one of Canada's largest sports broadcasting and media companies, I had an important decision to make. Do I stay the course in my current position and attempt to climb the corporate ladder from within, or do I go back to school and try to expand my horizons while exploring new opportunities?

I have now completed year one of the three-year joint JD/MBA program at Western and Ivey, and it is astonishing that I had such a hard time with that decision. Returning to school has truly been one of the most enlightening, enriching, and transformational experiences in my life.

I will explain why I feel that way by answering one of the most common questions that I am asked, "If you are going to be a lawyer, why do your MBA?"

Initially, my answer revolved around the idea that as a corporate lawyer it is important to have a solid understanding of the way that companies and capital markets function from a business management perspective, which is something that many law students lack. This answer is likely quite similar to the one you will hear from non-Ivey JD/MBAs.

Since starting at Ivey I have realized that my answer has changed quite dramatically. It is no longer only about the technical business skills that one can receive at any top MBA program. Ivey offers much more.

The Ivey Alumni Network is unparalleled and the quality of current students and faculty continues to impress me every day. The unique case-based learning method and small class size develops real-world decision-making skills. Courses in leadership, communications, and career management provide Ivey graduates with a competitive advantage and a growing level of confidence and professionalism that I simply did not anticipate.

Students are not accepted to the program based on what the program can offer them but based on the value that they can provide to the program. Each student has a required level of work experience and the class is made up of a wonderfully diverse group of leaders. We feed off of each other. It is unlike anything that I have ever seen before in a classroom.

There are tons of opportunities to get involved in the school as well. From student council, to senator positions, to clubs, to athletics, there is something for everyone. I am currently the Law Senator and have received amazing support from Ivey in my pursuit to start a new program that will see MBA students conduct business basics seminars for law students. I also play on the Ivey rugby and hockey teams and am a member of numerous clubs.

So, when asked why I'm doing my MBA, my answer is now based on my confidence that wherever I end up in my professional life I will have the practical confidence as a high-level decision maker and leader. I have an incredible network of current and future business leaders in my corner. Finally, I have built friendships and memories that will last a lifetime.
Education
B.A. McGill University
JD Candidate, Western University Law
MBA '15
Ivey Business School
Michael Sherman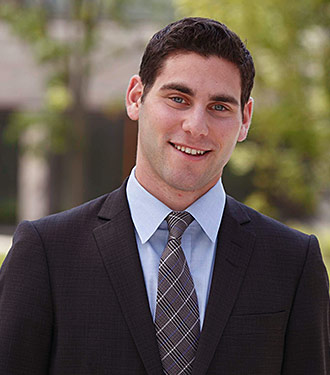 Toronto, Ontario