Prior to joining Ivey, I was looking for a once-in-a-lifetime opportunity to accomplish something challenging and different both personally and for my career. I had been working on incredibly interesting projects for six years as a structural engineer for firms in both Vancouver and Toronto; however, as time went on, I became more interested in how these firms developed into strong leaders and innovators within their fields. I wanted to develop my business acumen and leadership skills while building upon the experiences that I had obtained both academically and professionally. I therefore set out to find a business school that would help me achieve these objectives.

Having lived in numerous cities across Canada, I looked into many schools countrywide. I was impressed with a few of the schools; however, only one truly stood out to me throughout my decision-making process — the Ivey Business School. The First Class on the Road in Toronto really opened my eyes to the case-based method and just how effective it is as a learning method. I subsequently met with existing students and faculty at the Ivey Class Visit event and immediately felt a sense of community and support. I knew at this point that the MBA program at Ivey was the right place for me.

When I moved to London, Ontario, I met most of the students in the program almost immediately. With a class size of approximately 130 students, it was easy getting to know every student along with his or her unique skill set. I have found the learning teams most helpful, as I have been able to collaborate with other students and draw upon their knowledge (especially in courses or topics where I lack familiarity). The classroom discussions are lively and energetic and although the curriculum is demanding, the best part is knowing just how far you have come in such a short period of time. The support extends beyond the classroom through numerous extracurricular activities and social events.

The faculty has also been an exceptionally supportive resource. Professors make themselves available to ensure that you are getting the most out of your time in the program. The career management team has been a great strength of the program and has helped me build my professional brand and network. The entire faculty knows each student by name and is immersed in each student's development throughout and beyond the MBA program.

My advice to prospective students considering Ivey is simple: apply to the program that you believe is the best fit for who you are and what you want to accomplish in the future. Do not second-guess what your gut tells you. The Ivey MBA Program hosts monthly Class Visit events where you get a chance to see the classroom in action. The admissions team is a great resource throughout the application process. Ivey also holds many information sessions globally throughout the year, and I strongly encourage you to follow up on events in your area by regularly checking the program website. Ivey has been the experience of a lifetime. In the few months that I have been here, I have made everlasting friendships and gained the knowledge necessary for me to achieve my professional goals well into the future.
Education
BSc Civil Engineering, Queen's University
MASc Civil Engineering, Royal Military College of Canada
MBA '14
Ivey Business School
Morgan Bickerdike, P. Eng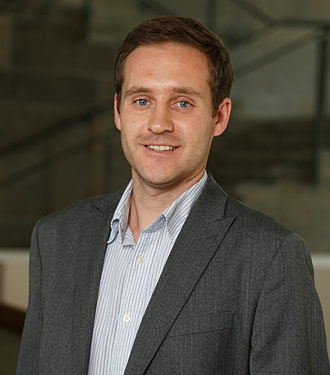 Vancouver, British Columbia