Shortly after completing my undergraduate degree I found myself completely outside my comfort zone, working in Capital Markets in the Middle East. I started my career in Equity Advisory, and from there moved within the firm to set up new business lines, including a proprietary investment desk as the analyst.

In order to formalize and build my finance knowledge I started the CFA Program and passed all three levels. After a fruitful three and a half years I was ready to take the next step in my career and to move back home to Canada.

While I had been looking at numerous MBA programs available today, Ivey was on the top of my list. Its case-based method, strong alumni network, and career management all contributed to cementing my decision.

Additionally Ivey was the clear best-fit for me because of my finance-focused background and my goal of developing my overall business acumen to complement my technical knowledge and ultimately become a strong leader. Ivey would be the perfect transition to come back to Canada and continue my banking career. After considering and evaluating all the criteria I was ready to make one of the biggest decisions of my life and to push myself outside my comfort zone again.

It was the best decision I could have made!

It is one thing to read and hear all about the Ivey experience, but it must be experienced in order to truly appreciate the meaning of being a part of the Ivey Family (past and future). Ivey is giving me the opportunity to be surrounded by brilliant minds that constantly challenge me to take on different perspectives and learn from their amazing diverse backgrounds. I've had the benefit to work with all types of people: an MD, a rocket scientist, a chemical engineer, an investment banker, a consultant, and everything in between.

Ivey is a school that challenges me every day and allows me to be the best that I can be by honing my skills and pushing my boundaries in dealing with all situations be it professional or personal. This is a legacy and institution that I am proud to be a part of.
Education
Bachelor of Science, University of Victoria
MBA '16
Ivey Business School
Omar Khan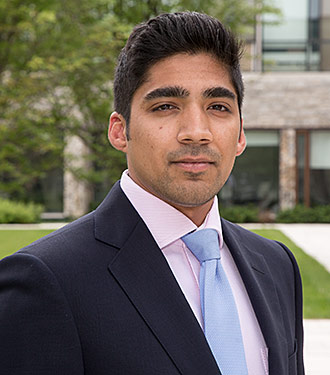 Vancouver, British Columbia