Thus far, throughout my career, I've noticed Ivey MBA alumni have consistently been solution-oriented, thoughtful, approachable, and intelligent business leaders. This was one of the main reasons Ivey Business School was a runaway top choice when choosing an MBA program.

After spending some time with fellow classmates, instructors, and program staff, it's no wonder why this consistency exists. Every day presents new challenges and opportunities for personal and professional growth, while still maintaining a supportive and encouraging learning environment.

As future leaders in our respective industries, we will face new challenges in the face of limited information and ambiguity requiring professional judgment and collaboration with our work teams. Ivey's Case-Method is no different. Coming to class every day requires diligent preparation, but the learning opportunity to identify and address key business issues across an integrated spectrum of disciplines really teaches you to 'learn on your feet.' Throughout my life, I've concluded the best way to learn is through doing. Solving complex business issues is no different.

Whether you're looking to develop your core business knowledge or to invest in developing yourself in other areas, the opportunities during these fast-paced and dynamic twelve months are countless. Keeping a positive attitude and making the most of every opportunity is the keystone of a great year at Ivey.

Of course, the Ivey experience goes well beyond the classroom. The opportunity to meet and interact with such a diverse and accomplished group of students forms the foundation of the Ivey experience. Whether being hard at work or at play, the students in this program are fun, welcoming, and supportive, all while challenging you to find your best.

Similar to my classmates, I came to Ivey with a set of skills that I hoped to develop. Being a Chartered Accountant, and having experience in real estate and financial advisory, the Ivey MBA is an ideal complement to the on-the-job financial and project management skills I have developed through work experience. At the same time, these twelve months quickly became an opportunity to find new challenges, take risks, and forge new friendships.

For those considering the Ivey MBA: challenge yourself. You'll be surprised at how much you learn and develop, while creating memories that will last a lifetime.
Education
B.A. Political Science, Western University
MBA '15
Ivey Business School
Pav Sanghera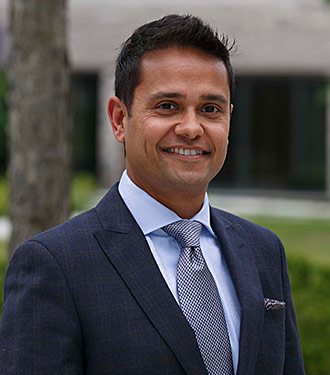 Oakville, Ontario