I am frequently asked, "Why would you want to pursue an Ivey MBA?" I realize that this question is an extremely personal inquiry, and when I began exploring my own interest in an MBA I discovered that there are as many unique reasons for studying at Ivey as there are students. In my case it was Ivey's emphasis on cross-enterprise leadership that initially drew me to this institution. The Ivey MBA Program develops the diversity of skills required among its graduates so that they are prepared to lead today's complex and dynamic institutions.

My professional career started ten years ago when I began studying medicine at McMaster University. Ultimately, I became a family physician and joined the Canadian Forces as a medical officer. As I began to fulfill my duties the breadth of responsibilities I encountered in this role surprised me. In addition to providing medical care I was also accountable for numerous business management decisions. Through these experiences I learned many hard lessons regarding financial resource allocation, corporate strategy, and how to effectively use human capital. A seed of interest was planted as a consequence of these challenges, and over time I became committed to pursuing a business management degree. My medical officer role eventually brought me to Afghanistan in 2010 where I led a trauma team in Kandahar during the height of the Afghanistan conflict. Our team had the honour of caring for numerous injured coalition soldiers as well as Afghani locals in what were often austere and dangerous conditions. This experience taught me the power of leading by example, the impact of humility, and the value of leaders who work to maintain a 360-degree awareness. Not only did these intangible skills mature in this environment, I became aware of the challenges of global supply management, the impact of operational efficiencies, and the need to efficiently manage financial resources in order to succeed. Through the case method here at Ivey, I see managers facing similar challenges in their own businesses, and I am learning skills that would have been extremely powerful in my previous role. I have found that it is the way Ivey brings management to life in the classroom that is signature to the MBA experience.

The Ivey MBA Program has exceeded my expectations in every respect, but the most surprising thing I have discovered so far is the sheer diversity of experiences my fellow students bring to the classroom. In any professional education environment the quality of your peers has a major impact on the richness of the learning atmosphere, and Ivey consistently delivers a well-balanced highly skilled student body that works as a team to create a phenomenal experience.

My time in the MBA program has reinforced my belief that Ivey prepares you to be a world-class manager. I know that I will be putting these skills to the test upon graduation when I return to the Canadian Forces and serve the Canadian public once again as a military officer.
Education
M.D., McMaster University
MBA '14
Ivey Business School
Richard Hilsden, M.D.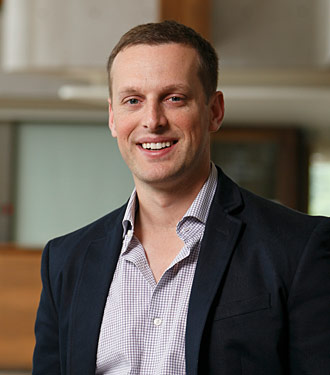 Ottawa, Ontario