Prior to coming to Ivey to pursue my MBA, my career consisted of Finance and Management Consulting roles of increasing complexity and responsibility.

After completing my undergraduate degree in business I went to work for a boutique firm providing due diligence services to hedge fund investors. It involved travelling to hedge fund managers' offices to assess their financial, operational, and IT controls. After completing on-site reviews, the company provided comprehensive reports detailing its findings and advising clients as to the rigour of the fund, managers' internal controls, and the potential for fraudulent activity or error. I couldn't have asked for a better start to my career — the job was interesting, challenging, allowed me to leverage the skills I'd learned during undergraduate study, and required regular trips to global financial centres such as New York, London, Zurich, and Hong Kong.

After a couple of years of due diligence work I was ready for a change. I was hired as a consultant in the strategy and operations consulting practice at a large professional services firm. I thoroughly enjoyed the job — working with different clients to help them solve complex organizational issues was challenging and fun. One of the things that I liked most about consulting was the variety of the work. Whether it was working with a not-for-profit organization to develop a business plan to expand its scope of services or working with a large university to implement a new ERP system, each project was different and presented unique challenges to overcome.

From this experience I decided to pursue a career in consulting, but to earn an MBA to round out my business skills and knowledge and to then accelerate my career progression to earn positions of greater responsibility, challenge, and satisfaction.

When researching MBA programs, I had a few criteria in mind. I wanted a one-year program that had a strong reputation in the eyes of potential employers, had strong career management staff and links to industry, and had a powerful and supportive alumni network. Ivey ticked all the boxes. To be sure that it was the right place for me, however, I flew to London to attend a Class Visit. I was thoroughly impressed with the facilities, faculty, support staff, and students I interacted with and the case- method approach to learning. I knew then that Ivey was the right school for me.

Since arriving, I've continued to be impressed by what the school has to offer; the calibre of classmates, the knowledge and enthusiasm of faculty, the excellent support of career management staff, and the ever-accelerating classroom experience. From resumé editing to networking simulations to interview practice, career management overlooks no detail. The Ivey Partnership Program allows us to connect with alumni to build our networks and gain deeper insight into what's happening in the market. Ivey's flagship Get Connected event in Toronto was extremely valuable in getting to better know the industries and firms in which we aspire to make our future. The quality of the guest speakers who come to the school is world class and inspiring.

One upcoming experience I eagerly anticipate is the China study trip. As a person who loves travelling and has a specific interest in international business, I look forward to the opportunity to immerse myself in the Chinese culture and learn more about doing business in that part of the world. I expect it to be an unforgettable experience.

Being a student in the Ivey MBA Program truly is a transformational experience — it's fast-paced, challenging, and constantly pushes me out of my comfort zone. Four months into the program, I already feel I have developed substantially as a business professional. By the end of the program, I know I will be ready to go back into the workforce as a well-rounded, knowledgeable, and credible leader.
Education
Honours Bachelor of Business Administration, St. Francis Xavier University
MBA '15
Ivey Business School
Rory MacDonald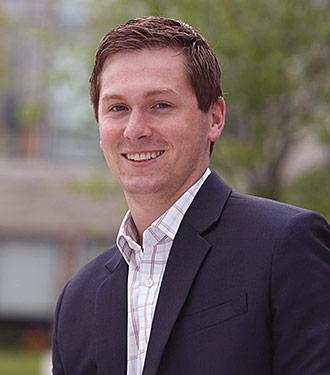 Aberdeen, United Kingdom