From developing customer and channel strategies to building complex mathematical models and planning significant business and technology transformations, I have gained a breadth of experience in management consulting as a generalist spanning multiple industries and functional areas. I have applied these skills as an experienced consultant in my community, solving challenges for five not-for-profit organizations. Having developed a unique combination of skills bridging strategic thinking and analytical expertise, I chose to pursue the Ivey MBA to supplement my engineering education with a credible toolkit of business skills.

Ivey's MBA Program was a natural choice for me as I contemplated the next stage in my career. My primary goal was to develop a strong network of Canadian business leaders. As Canada's oldest business school, the size and calibre of the alumni network is unparalleled. Furthermore, your classmates form the foundation of this network and in speaking with each and every one of my peers I can confidently say that the classroom is full of a wealth of invaluable experience. In addition, the case-based method provides an opportunity to not only apply your experiences to real-world problems every day, but challenges you to constantly make and justify business decisions. This is a critical trait that distinguishes a strong performer from a strong leader, and thus I knew that Ivey was the right school for me.

Prior to joining the program, I was apprehensive about transitioning from hands-on on-the-job learning back to more passive learning in a classroom setting. My fears were quickly put to resthowever, as the relentless focus on quality contribution during case discussions ensures that each individual is actively engaged. Not only have I accumulated a plethora of knowledge about different geographies, industries, and functions, but my learning has also been substantially augmented by the personal experiences of my peers. Furthermore, the curriculum teaches you the technical fundamentals, but even the most technical courses have a strong focus on the managerial interpretation, which is key for every business leader.

Above and beyond the program itself, I am most amazed by the strength of the relationships that I have built with my classmates. I truly feel that I have developed a "home away from home" here at Ivey. Even a couple of weeks into the program, I knew that I had made a number of lifelong friendships with my classmates. The prospect that this one-year program will finish in the blink of an eye is both exciting and daunting, but I wouldn't trade the experience for anything else.
Education
Bachelor of Applied Science in Industrial Engineering, University of Toronto
MBA '15
Ivey Business School
Sapna Mehta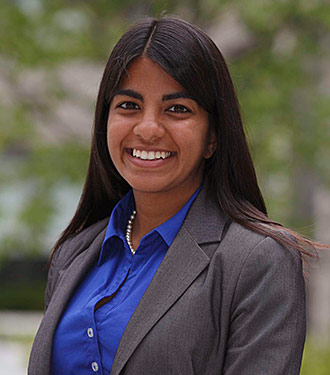 Brampton, Ontario