"Why now?" That was the question that family, friends, and colleagues asked when I told them I was going to step away from a successful career to pursue an MBA at Ivey. Although it may not have been obvious to them, for me, the answer was clear. It was all about getting away from the daily grind to undergo a process of personal and professional self-examination, and ultimately invest in myself to develop the capabilities for a successful management career.

After completing an undergraduate degree in Commerce, I began working as a Management Consultant. During that time, I worked in a variety of interesting industries and client situations, including a stint in the Middle East. I eventually made a career change and became a Senior Manager in the strategy group at one of Canada's largest banks, where I supported the leadership team on key management decisions. At this point in my career, I decided the time was right to pursue my MBA to ensure that I had the skills necessary for long-term career success.

My search began and ended with Ivey. I knew that I wanted to live and work in Canada, so it was important for me to expand my network at home. I reached out to several former and current colleagues who were Ivey alums, and they overwhelmingly had positive stories about Ivey as a transformational experience. I decided to put all of my eggs into one basket by applying to one school. There were three key reasons why I focused solely on Ivey.

The first was the use of the Ivey Case Method. I truly believe that this is the best way to learn about management because it exposes you to real-world problems from the point of view of the decision maker. You never have perfect information, and you must clearly communicate a decision with conviction — just like in the real world. During the program, Ivey gives you the opportunity to make hundreds of management decisions through case-method learning.

The second was the emphasis on team work. Nearly all work at Ivey is completed in a learning team of five to seven members. Other schools place you in similar teams to complete assignments, but with the case method you rely on your team for day-to-day learning. By working through both cases and assignments, you are forced to act like a real senior management team.

Third, and perhaps most importantly, was access to the Ivey network. I am now part of an incredible network that runs deep in Canada and broadly across the globe. My early experience has been very positive, as Ivey alums are almost always willing to connect and share their experiences. I really do feel part of a very welcoming and supportive family.

To date, my Ivey experience has lived up to everything I had hoped for. I feel that I am on a transformational journey that will enable me to have an exceptionally successful career, while staying connected to the larger Ivey community.
Education
Bachelor of Commerce, Queen's University
MBA '14
Ivey Business School
Sergio Gomes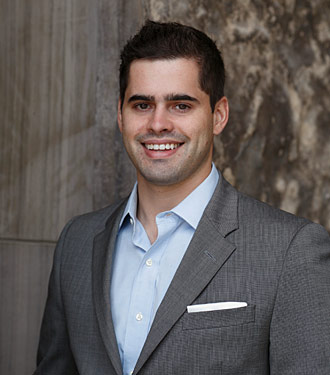 Oakville, Ontario