I started my career as a Corporate Credit Analyst with Standard Chartered Bank in Bangladesh in 2008. In 2010, I switched to a locally owned investment bank named IDLC Investments Limited as an Associate. Having pursued the CFA program, I felt that I needed to develop a cross-enterprise understanding of how a business operates. I also felt that I needed to improve my negotiation and communication skills. So, I decided to apply to Ivey as I was confident that the Ivey MBA Program would provide me with the best opportunities to develop these skills.

Right after my first day at Ivey, my confidence in the case-based method turned into firm conviction. Because of the richness in the material, the cases at Ivey can focus on issues that encompass all the major functions of a business. Often, the professors take a team-based teaching approach to highlight the enterprise-wide issues. The case-based method forces a student to think about a business problem from an organization-wide perspective and evaluate the interaction among various business functions.

The case-based method functions by developing on the opinions of the students in the classroom. Compared to a lecture-based program where the flow of information is one directional, we learn from our fellow classmates as much as we learn from our professors. The professors conduct the classes as moderators, often facilitating opposing views and arguments. As a result, classroom debate is almost a daily exercise. The professors often direct different learning teams to assume competing roles pertinent to a case. Participating in such role playing and debates has improved my negotiation and communication skills substantially. Within months, the dynamic and intense classroom environment at Ivey has developed me significantly as a person and as a professional.

The biggest fear that I had when I joined Ivey was how I would integrate within a new environment. My fear started to fade away as I interacted more and more with my classmates and especially with my learning teammates. My learning teammates helped me greatly to learn the things that a new person needs to learn. We ended up being more than just teammates, but very good friends as well — beyond just preparing cases and 24-hour reports. The program adheres to rigorous admissions criteria and admits candidates who demonstrate strong work ethic, maturity, and leadership qualities. Overall, the Ivey environment strongly promotes diversity, mutual respect, and collaboration.

Apart from being a unique way of teaching, the case-based method provides me with ample opportunities to represent myself and my country. While discussing cases with my classmates, I can often bring up examples that are unique to an emerging economy like that of Bangladesh. Also, I can learn about other markets from my classmates when they bring up their unique examples. In a year from now, I believe I will possess a better understanding of the factors that affect a business, as well as the factors that shape up our world today.
Education
Bachelor of Business Administration, Institute of Business Administration, University of Dhaka, Bangladesh
MBA '14
Ivey Business School
Tausif Huda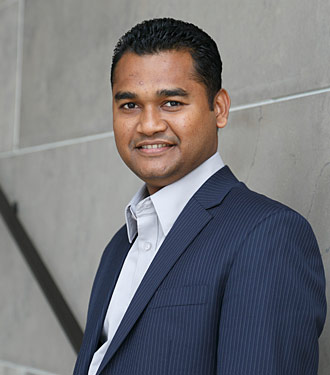 Chittagong, Bangladesh