Having completed my Bachelor's degree in business management with a specialization in marketing, I went on to work at Google with e-commerce under Checkout Risk operations (re-named Google Wallet), and subsequently as an Account Strategist Coordinator with the online AdWords customer service, handling advertiser accounts for the US, UK, and Irish markets under Branding, Legal and Careers industries. During my time with Google, I enjoyed working with some renowned client campaigns such as McDonalds and Monster.com.

The three-year experience in this leading company provided me with unique insight into the latest trends in the online marketing space. It has helped me add valuable contributions to our classroom discussions at Ivey for the benefit of the class. In return, I have gained invaluable insights from the wide array of industries that students in our class come from. Moving out of Google was a huge decision, but I am glad as the unique Case Method at Ivey is an invaluable addition to my profile, honing my leadership skills and providing me with a unique platform required to broaden my professional network. This is just one of the many reasons why I chose to come to Ivey.

Being the co-president of the Marketing and Sales club has also helped me enrich myself and others by organizing events during the course of the year. We are currently working on digital marketing exposure at Ivey in collaboration with an Ivey alumnus at Google.

In what has already been a life-changing time at Ivey, I was excited to have been given an incredible opportunity not only to showcase our talents but to gain an incredible learning experience through the McKinsey Case Competition. It opened new avenues and taught us unique ways of problem solving that fostered a sense of understanding (with a live case) and the importance of collaboration (with teammates and consultants as clients). This was a particularly enriching experience since McKinsey, a top consulting firm, sponsored the three-day event and spent considerable time with us to ensure that they enhanced our learning and challenged our limits.

One of the most memorable moments so far was definitely when our team was unanimously announced as the winner of the case competition after three days of rigorous brainstorming, collaboration, and presentations. We shared our happiness by donating our prize money to the clients. The experience was exhilarating. I look forward to many more such exciting opportunities that lay ahead.

After Ivey, I would like to pursue a career in consulting and eventually work with marketing for non-profits to better the world. Ivey's unique experience enables me to achieve these goals and more.

The Ivey experience will help me acquire the right tool-kit required to apply skill sets that will complement my present skills. This is vital not just for a professional future, but for a personal future as well. Looking forward, I will carry these invaluable teachings every step of the way and know that the rest of my time at Ivey will be deeply cherished.
Education
Bachelor of Business Administration (Marketing), St. Joseph's College of Commerce, Bangalore, India
MBA '14
Ivey Business School
Vaishnavi Ravi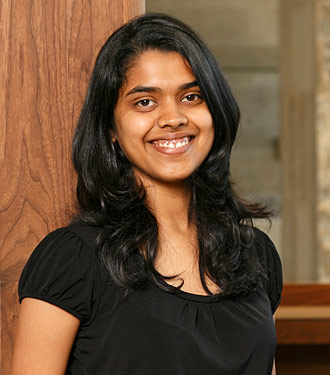 Bangalore, Karnataka, India