After completing an undergraduate business degree with a minor in Psychology, I headed to Brisbane, Australia where I worked for a couple of years for a leading food manufacturer as a Sales Analyst. While I enjoyed the international setting, I decided to return to Toronto and accepted a position at a global consulting firm. In this role I was exposed to a variety of challenges in many different industries and was able to observe diverse leadership styles and corporate cultures. Through work, and on a volunteer basis, I enjoyed helping organizations address their planning and operational needs. After three years in consulting, I decided that I wanted to broaden my general management perspective and bring more depth to my handling of complex multi-dimensional business issues.

Ivey's case-based program fits well with the demands of general management and the consulting industry by helping students to develop and refine their strategic problem-solving skills and to effectively communicate their recommendations. The intense interaction with experienced peers and faculty, which is the hallmark of this program, provides an effective real-world setting in which to learn and apply the principles of good business decision-making.

Ivey provides a warm and welcoming environment that has consistently exceeded my expectations. The faculty and the administration are fully committed to providing students with a first-class experience and support students in achieving their best. Faculty members are accessible and encouraging, seeking to engage students in the learning process. Fellow classmates are drawn from many fields and all corners of the world. It is the camaraderie and friendships that develop as a result of the small class sizes and the emphasis on teamwork that truly epitomizes what is best in the Ivey experience. It is no wonder that the Ivey alumni network is so strong and provides such helpful advice and assistance to incoming classes.

Ivey is providing me with a strong foundation on which to further build my career. Case studies are bringing to life the principles, patterns, and approaches that are needed to be successful in today's international, fast-paced business world. In addition, the cases repeatedly demonstrate the importance of a positive corporate culture and thoughtful leadership. The Ivey experience has strengthened my interest in how leadership can shape an organization and make it stand out among its peers. Ivey has also reinforced the importance of assembling a strong team with unique skills and of valuing and encouraging the input and expertise of all team members. These are invaluable lessons that I will take forward in my career.

Anyone interested in obtaining an MBA should consider what distinguishes the Ivey experience; namely, the use of the case method to prepare you to tackle problems from the perspective of senior management, the emphasis on in-class collaborative debate and dialogue to solve complex real-life business problems, and the high calibre of the faculty and fellow students. These ingredients, combined with a supportive, stimulating, and world-class program, make Ivey a great fit for any student who aspires to become one of tomorrow's business leaders.
Education
Bachelor of Business with Minor in Psychology, Wilfred Laurier University
MBA '14
Ivey Business School
Whitney Caelers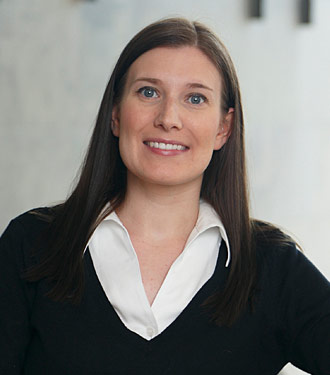 Oakville, Ontario