I grew up in the Far East of Russia in a town called Blagoveshchensk, which means "Good News" in Old Russian. Despite the promising name, it did not offer many prospects. However, its key location on the border with China provided me with opportunities to travel. Travelling broadened my perspective and revealed greater opportunities for self-realization. Since then I set myself on a path to discover and realize my full potential through international exposure.

I was lucky in my pursuit. For nine years I had the privilege to work for Maersk Line, the largest maritime transportation company. I held positions in the Finance, Operations, and Commercial departments in Russia, Italy, Spain, and Denmark. In my most recent role, as a part of the regional leadership team, I worked on a wide range of projects aimed at advancing business performance in twenty-eight countries from the UK to Russia. My many experiences abroad grew together into valuable lessons that prepared me for my next endeavour.

Last year I immigrated to Canada for personal reasons. I quickly realized that I wanted to use this natural break in my career to go back to school. I knew that an Ivey MBA would be central to my future success in Canada. Its integrated case method would refine my soft and hard skills, which I need to achieve my career goals. Even more importantly, it would allow me to build a valuable professional network that as a new immigrant I lacked. Ivey is known for its close-knit community and alumni base, which I aspired to become a part of.

I came to Ivey with high expectations, which have been exceeded every day. The past three months have been the most exciting and challenging time in my life. The fast-paced environment, different worldviews, and novel experiences have posed a challenge, forcing me to think and act in new ways. Case discussions, games, simulations, 24-hour reports, etc., develop me both personally and professionally while bringing a lot of fun! I am confident that Ivey will provide me with the solid framework to succeed in my future international career and to advance business practices that will benefit both industries and society.
Education
Bachelor of Science in Management Studies, University of Maryland, USA
Honours Master of Economics, Far Eastern State University, Russia
MBA '16
Ivey Business School
Yulia Kalashnikova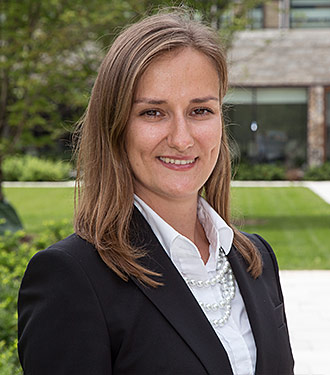 Blagoveshchensk, Russia