Why an Ivey MBA?
An Ivey MBA can open doors and connect you with opportunities you would have never previously considered. Whether you are looking to transition careers, increase your earning potential, or accelerate your current career path, the Ivey MBA will give you the business foundation and the leadership skills essential to achieving your career goals.
"As a female in engineering, I was a minority. The experience was similar when I started working in industry at Ontario Power Generation. I asked myself: what can I do to inspire more females to take an interest in math, science, and specifically, engineering? With a unique engineering experience and an entrepreneurial spirit, alongside an Ivey MBA, I am fully equipped to take my not-for-profit, and any future ventures I decide to pursue, to success." [expand quote] [collapse quote]

Sudduf Wyne - MBA 2013
Sample Career Paths Post-MBA
An MBA is versatile and valuable across multiple industries. Outside of the more traditional career paths post-MBA, such as financial services and management consulting, female MBA graduates are pursuing careers like the below.
Government and Public Service
Marketing and Advertising
Entertainment, Media, and Public Relations
Health Care
Non-profit sector
Academic Research
Tourism and Hospitality
Telecommunications
IT Consulting
Internet and E-Commerce
Retail and Fashion
(Source: Forbes.com)
Scholarships and Awards for Female Applicants
These scholarships are geared specifically to female applicants, but be sure to also check out our broader scholarship and awards list.
Barbara Mary McIntyre Award
Awarded to a female full-time MBA student based on financial need and academic achievement. Value: One award at $19,300
Beacon Securities MBA Award
Awarded to a bilingual female from Quebec based on academic standing and financial need. Value: One at $10,000 (value to be reviewed annually)
Gwen and Ben Anders Award
Awarded annually to a full-time female student of outstanding academic quality who is entering the MBA Program. Gwen Anders was the first female to graduate from Ivey's MBA Program. The purpose of the award is to increase female enrolment at Ivey and in turn, women in business. Value: One at $5,200
TD Women in Management MBA Awards
This award is available to women entering the MBA Program who have demonstrated academic achievement, community involvement, and financial need. Recipients must meet the Ontario residency requirements of the Ontario Trust for Student Support Program. Value: One at $47,000
Ivey Female Leader Award
The Ivey Female Leader Award recognizes high-performing female candidates who have demonstrated leadership potential in their previous experience and who will bring valuable perspectives to the classroom environment. We have four Ivey Female Leader Awards available at a value of $50,000 CDN each. You must also meet our academic admissions standards (GPA and GMAT) as well as demonstrating strong performance in the admissions interview process. Recipients will be determined by the admissions committee.
Featured Student Profiles
Featured Ivey Female Faculty
| Faculty Name | Area of Expertise |
| --- | --- |
| Tima Bansal | Strategic Analysis and Action, Sustainable Development, International Business |
| June Cotte | Consumer Behaviour and Decision-Making, Online and Casino Gambling, Temporal Perception and Behaviour, Social and Ethical Issues in Consumption |
| Mary Crossan | Strategic Management Science, Organizational Learning for Competitive Advantage, Improvisation, Cross-Enterprise Management |
| Ann Frost | High Performance Work Practices, Changing Union-Management Relations, Call Centres, Intensive Care Units, Steel Industry |
| Nicole Haggerty | IT Competence of Business Leaders, IT Consulting, Technology and Social Capital/Social Networks, Technology Mediated Learning, IT Project Management |
| Jane Howell | Leadership, Innovation, Change, Champions, Teams |
| Lynn Imai | Ethics, Cross-Cultural Negotiation, Cultural Intelligence, Teams, Cross-Cultural Management, Motivation (Regulatory Focus), Biculturalism/Multiculturalism |
| Allison Johnson | Consumer Psychology, Consumers' Relationships with Brands, Consumer Well-Being, Consumerism, Social Identity and Attachment Theories, Emotion |
| Alison Konrad | Inclusivity Initiatives in Organizations, Affirmative Action/Employment Equity Programs, Work/Life Balance Initiatives, Job Attitudes and Work Values |
| Cara Maurer | Organizational Learning and Diversity, Impact of Culture on Firm Strategy |
| Lyn Purdy | Impact of Supplier Evaluation, Teams and Quality Programs, JIT and Organizational Change |
| Dina Ribbink | Supply Chain Management, Purchasing/Buyer-Supplier Relationships, Logistics and Transportation |
| Jana Seijts | Effective Presentations, Corporate Education and Training, Professional and Technical Writing, Cross-Cultural Communications, Writing Theory and Pedagogy, Presentation Skills Training, Corporate Communications |
| Anne Snowdon | Chair, Ivey International Centre for Health Innovation |
Resources and Interesting Media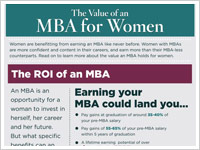 The Value of an MBA for Women