FEATURE
THE
TRANSFORMATION
OF EDUCATION
COVID-19 has changed education delivery. Ivey graduates explore the issues they faced, how their schools adapted, and what the future might hold.
One year ago, it was a March Break like no other.
In an effort to curb the COVID-19 pandemic in the early months of 2020, regional and local governments across North America ordered learning institutions closed. By April, tens of millions of students were out of school, from kindergarteners to post-secondary students nearing graduation.
Since then, educators across the continent have grappled with the challenges of teaching during a pandemic, whether in person, virtually, or a hybrid of the two. At the same time, they've worried about the emotional and psychological well-being of a young population going through unprecedented disruption.
Faced with the challenges of this extraordinary time, members of the Ivey community have approached these problems with flexibility, creativity, and patience.
Maintaining Connections
One of the biggest challenges of education during COVID-19 has been delivering highly interactive, engaging programming while eliminating the risk of infection as much as possible.
It's a challenge that Lorraine Trotter, HBA '79, MBA '84, Dean of the Centre of Hospitality and Culinary Arts at George Brown College in Toronto, Ont., knows well. When the shutdown was first mandated by the Government of Ontario, she and her team moved fast.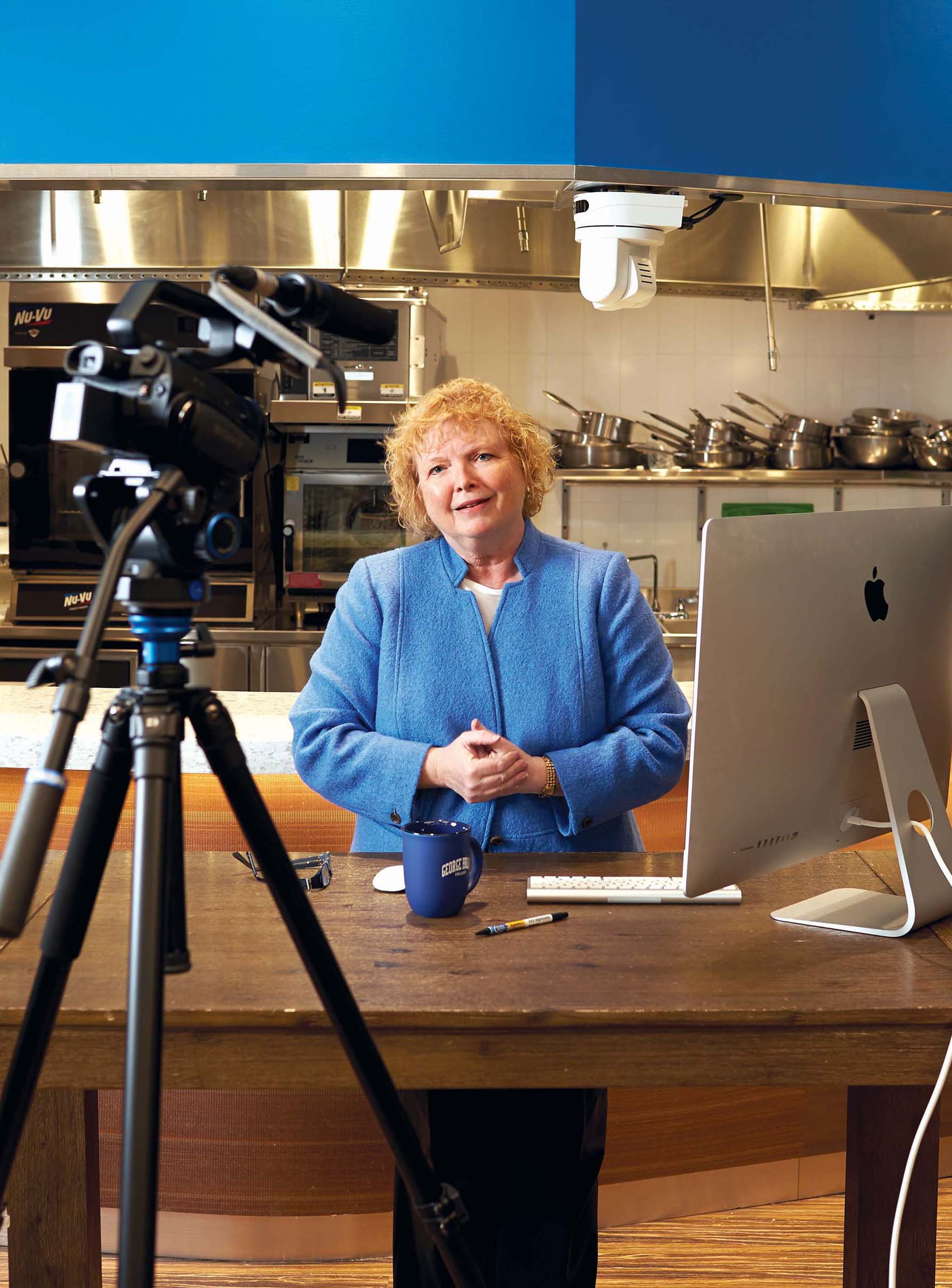 "We converted everything we could to online delivery. The focus at that time was close down, keep people safe, and finish the term," Trotter says.
That included shutting down the school's student-run restaurant, The Chefs' House, and cancelling planned study tours in places like Japan, Las Vegas, and across Europe. And while final-year students were able to get what they needed to graduate in April, a new term was starting in May that included mandatory lab courses where students would normally observe and learn specific culinary skills in classrooms with their instructors.
So, Trotter and her team embarked on a large-scale operation to make sure the students got what they needed. Faculty members produced more than 400 videos of themselves preparing dishes and demonstrating skills, while the school's inventory management team painstakingly packed 1,100 boxes with ingredients and tools to ship to the 430 students in the Chef School program. It was an all-hands-on-deck effort, she says, but they made it work.
"We packaged what they needed in order to practice at home, and then the students would record what they made and send that back to the faculty for grading."
—Lorraine Trotter, HBA '79, MBA '84
A Mixed Model
At the Ivey Business School, administrators were faced with similar challenges. Ivey is renowned for its dynamic Case Method and the benefits of group learning, but like universities across the country, Ivey initially shifted to virtual learning in March 2020 to ensure the safety of students, faculty, and staff.
Fortunately, the School had some invaluable insights to draw from when going virtual. A few months prior, Ivey launched its Accelerated MBA Program. Designed for working professionals with an undergraduate business degree, the blended program combines live in-class sessions with interactive online components. This previous experience helped administration and faculty quickly move all classes online.
Kayla Ross, HBA '14, MBA '21 candidate, is currently enrolled in the MBA Direct, a nine-month program designed for students who have already earned their HBA. Kayla says she made the choice to enroll at Ivey even after the pandemic hit, starting the program in July 2020.
"It's something I always wanted to do," Ross says. "I work in consulting and was enrolled in a work reduction program due to the pandemic, so it felt like the right time to do it."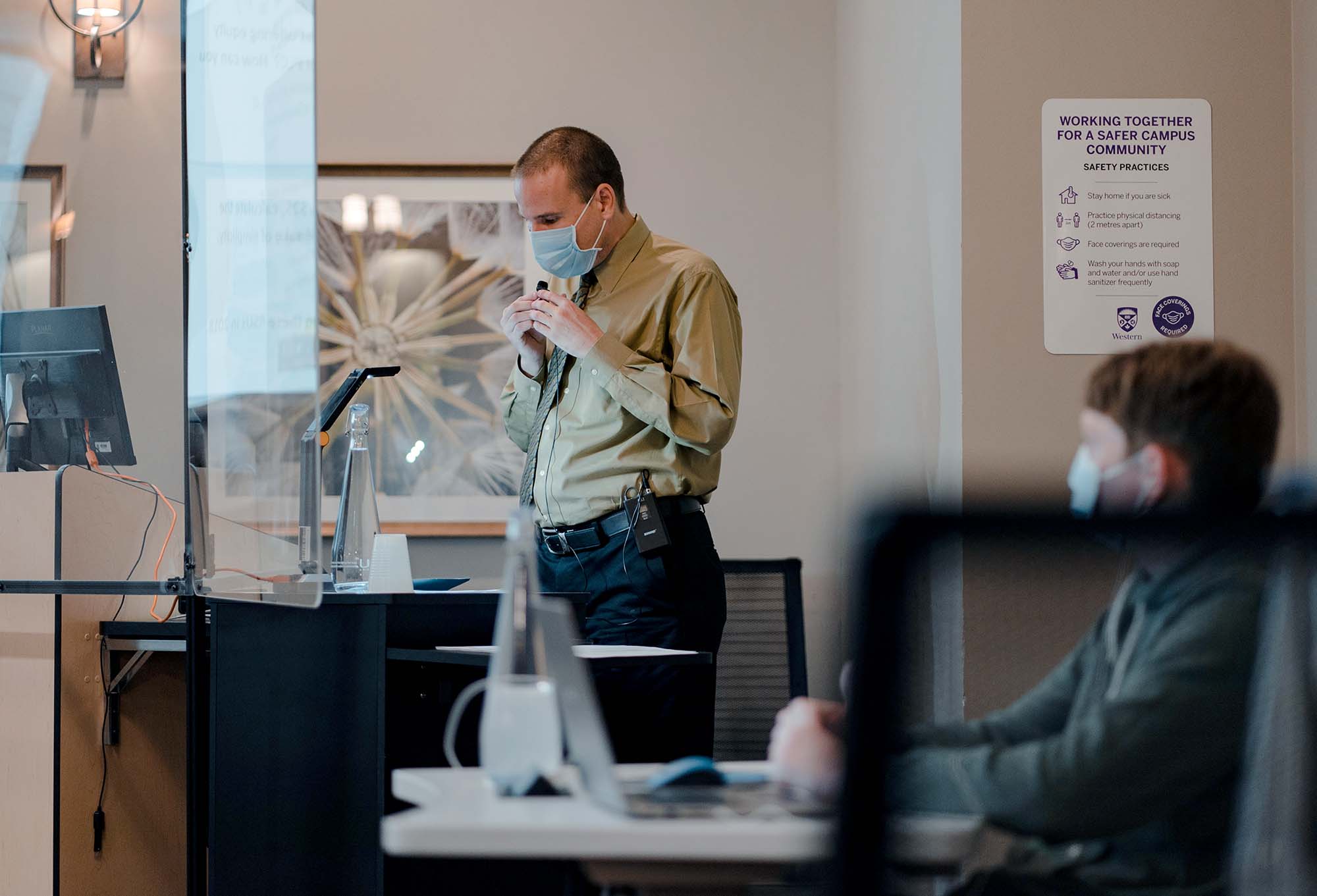 Ross says the first two months of the program were tough. She was working full-time in Toronto, Ont. and tackled her demanding Ivey classwork online in the evenings. And while her HBA had been an incredibly social experience where she quickly formed bonds with her classmates, Ross found it more difficult to connect with fellow students from behind a computer screen. "It was harder to break down the barriers, get to know people, and do assignments together," she says.
Ivey introduced a mixed model for many programs in September, and MBA students have the choice whether to attend classes online or in person. Those who choose in-person learning attend class with their professor in a large room, masked, and spaced apart at the Ivey Spencer Leadership Centre in London, Ont. In-person students can ask questions on microphones stationed in the room, while home-based students can participate through the online platform, on a big screen at the front of the class.
"I've been pleasantly surprised by how the professors have been able to manage the mixed online/in-person classroom model."
—Kayla Ross, HBA '14, MBA '21 candidate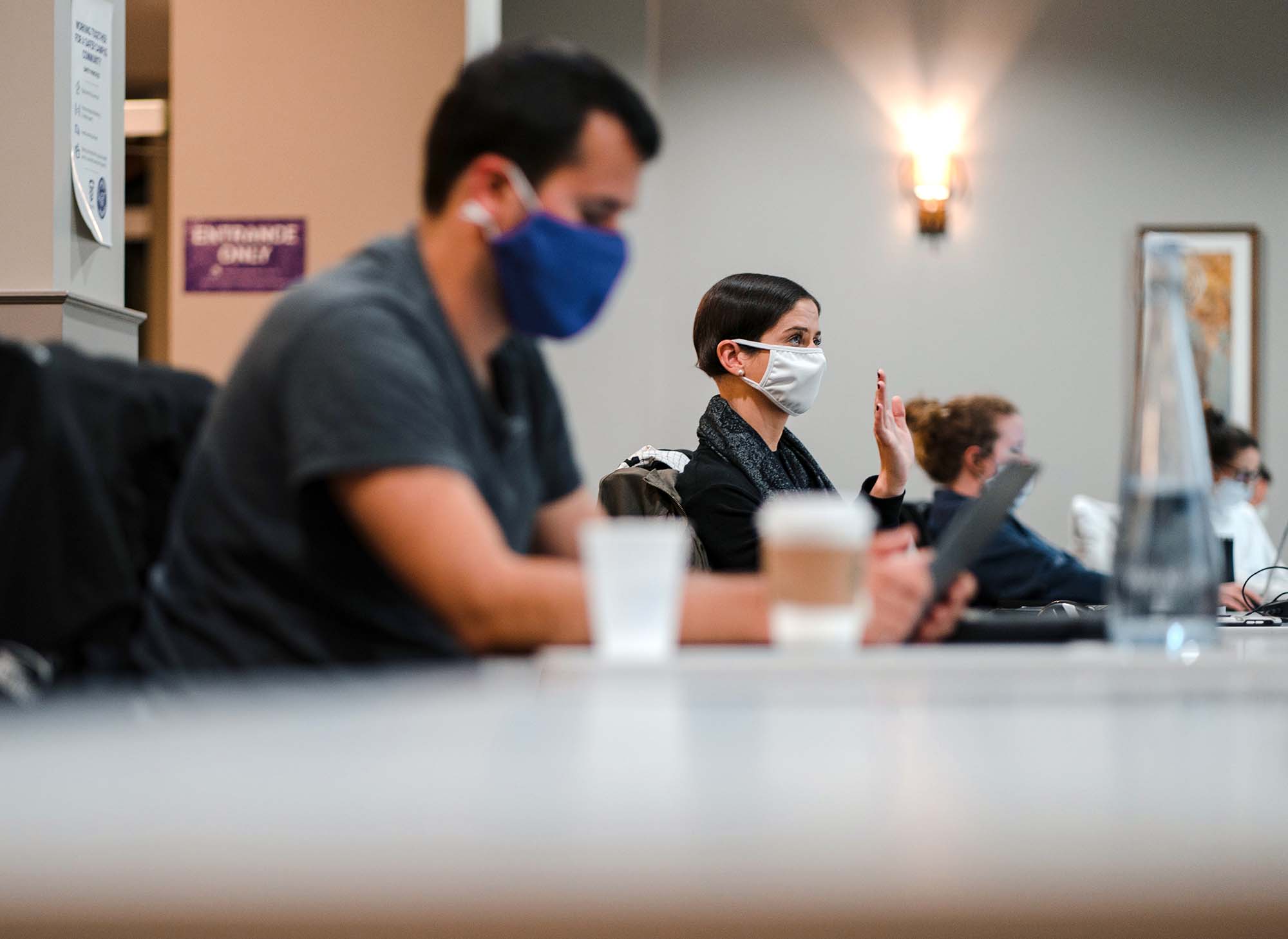 Ross says that when she and her fellow classmates were back in person, they were able to do some safe activities outdoors in small groups in order to bond outside of class, including a weekly distanced bonfire. "That's been a good social activity. And now our group is so close."
Like Ivey, Trotter says George Brown has worked hard to make a hybrid model work since September. Because of the hands-on nature of the school, they've had to work out safe ways of doing things. For wine-tasting classes, they've set up special tasting sessions with plexiglass shields so there's no contact between students and faculty. The Chefs' House restaurant was converted to a grab-and-go marketplace so students could practice their skills even when indoor dining was prohibited. And any students and staff who do not want to be on campus for personal reasons can participate virtually, including in virtual placements using virtual reality and industry partner content.
"The goal is to preserve everybody's health and safety," Trotter says. "Yes, it's a little bit more work, but everybody is really focused on that."
Synchronous Learning
While post-secondary students have the maturity to understand why safety measures are necessary, for many younger students, it's been a bit harder to adjust.
Naheed Bardai, HBA '02, is Head of the Upper School at Upper Canada College (UCC) in Toronto, Ont., a private school for boys from kindergarten to grade 12. Bardai, who leads the faculty that teaches students in grades 8-12, says that moving to online learning last spring was challenging for students.
"For so many of our students, their identity is wrapped in being a high-performing athlete, competing with the jazz band, or as someone in Model UN. Some of those activities we were able to transition online, but many we could not," Bardai says. "There was a lot of longing for what could and should have been there for them — the rituals that we have as an institution, including the formal dinners and dances, and the honouring of the graduating class."
UCC students in grades 8-12 are split into two cohorts, each coming in to school every other day when permitted by government restrictions — as is the case with most Canadian high schools.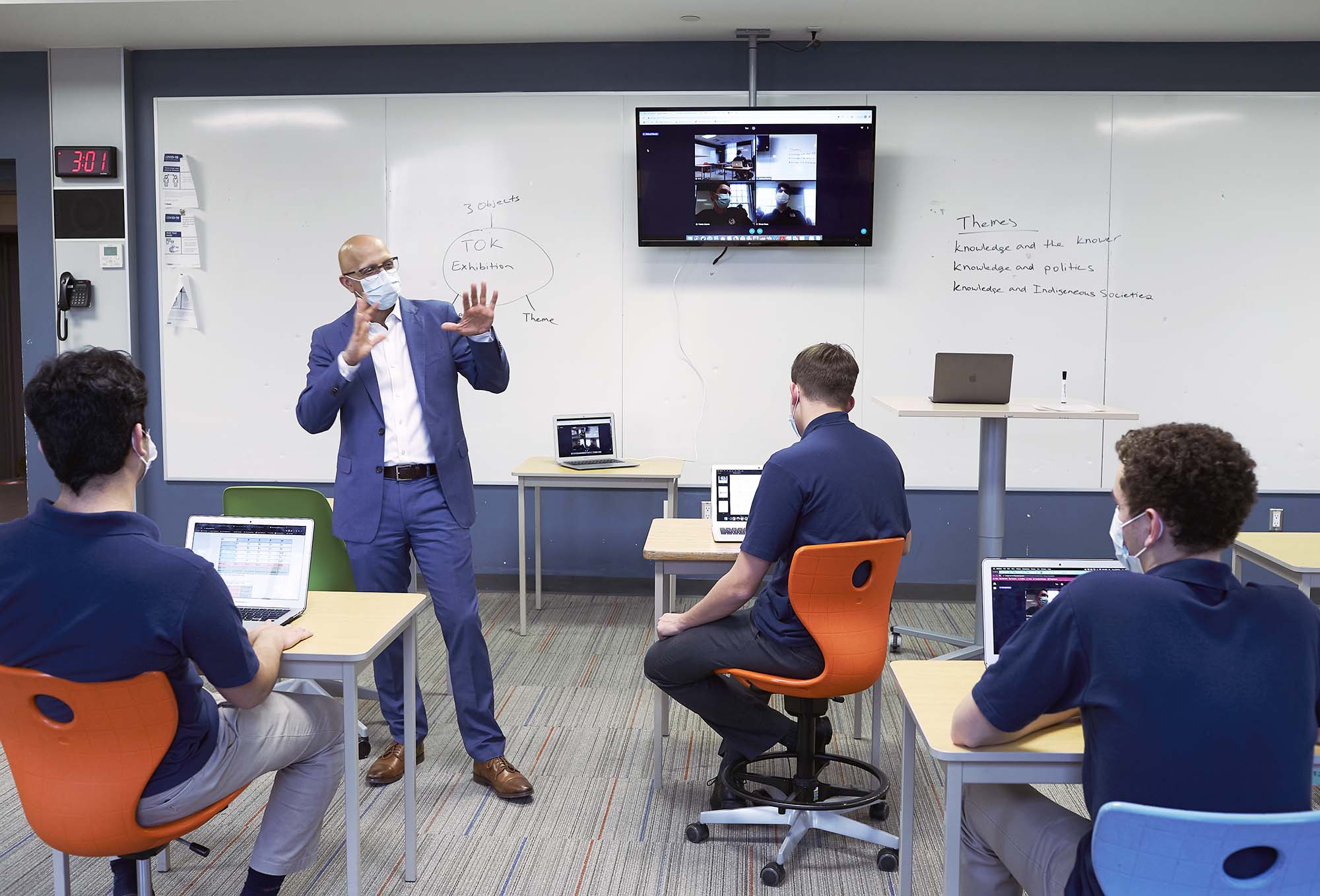 When in school, students must adhere to strict health and safety guidelines, says Bardai, including an online screening app that students fill out every morning, mandatory masking, two metres of physical distancing in the classroom, and wipes and hand sanitizer in the classrooms.
During the summer, UCC installed cameras in every single classroom so that when students are at home, they are engaged in continuous learning via the camera with the students who are physically present. Synchronous learning has been an important way to provide that interactive continuity of instruction for their students, he says, but it's also been tough on faculty members.
"It's a huge amount of work for teachers doing it all new for the first time on top of all the health and safety protocols. But the teachers have been tremendous. And we try to be as supportive and encouraging as possible, and do our best to be there for one another."
—Naheed Bardai, HBA '02
Staying Engaged
Steven Burtch, MBA '90, is a math, business, and geography teacher for grades 6-12 at The Concept School (TCS) in Westtown, Pa. He explains that TCS is a small school where they educate students who learn differently and benefit from a smaller, relaxed, and more personalized environment, including students with autism, ADHD, and anxiety disorders.
Burtch says faculty had a lot of concerns when the school had to shut down and move to online learning due to COVID-19.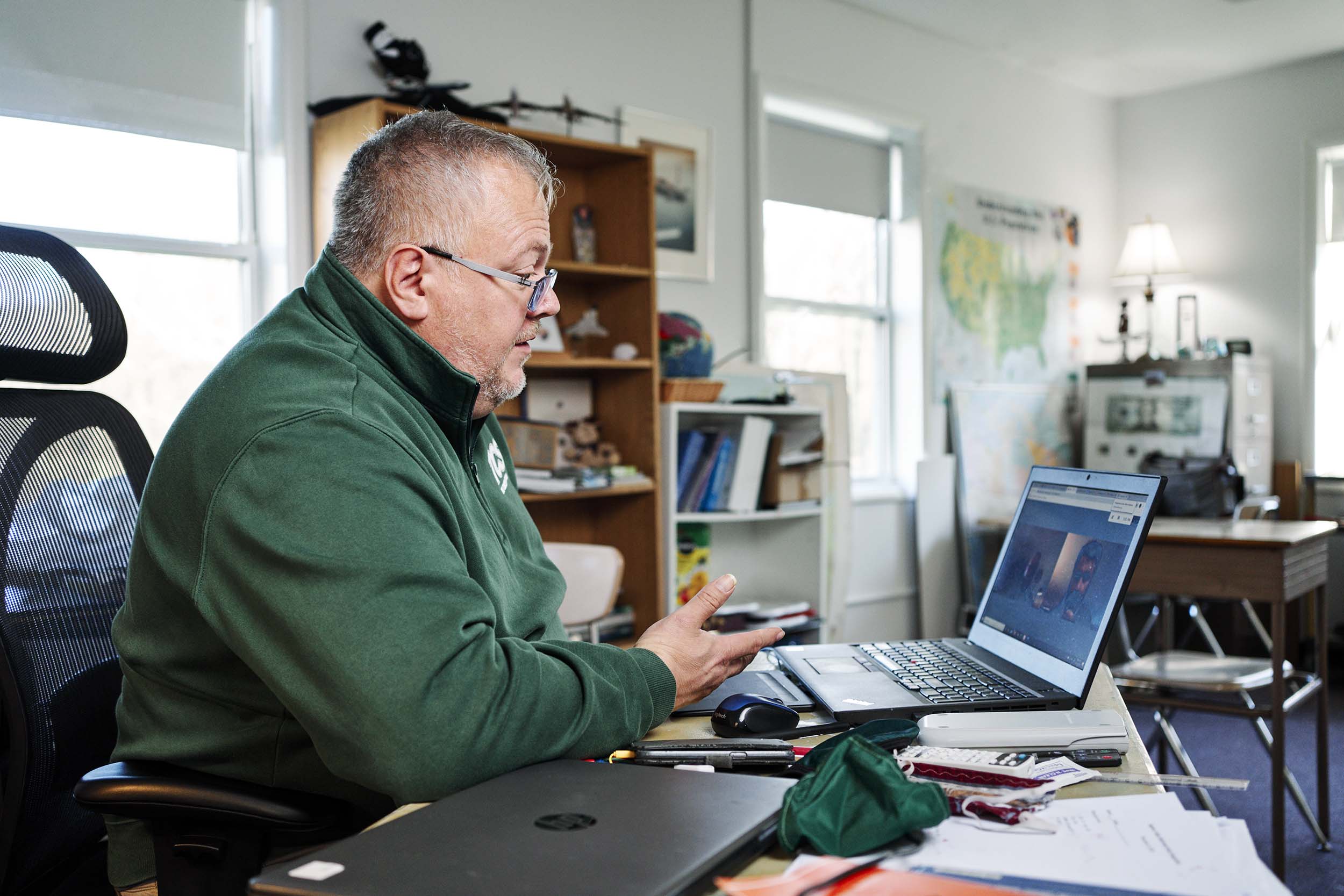 "Most of the students here have struggled for various reasons to be successful at a larger school. Teachers here work really, really closely with the students. So initially we asked, 'How are we going to do this?'"
—Steven Burtch, MBA '90
Burtch says that at first, the staff decided the goal would be engagement, not mastery, "to keep kids coming, keep them engaged, and not have them just disappear into the night."
In September, his school implemented a hybrid model. Students did virtual education Monday to Thursday on a shorter-than-usual schedule doing synchronous online classes with teachers through an online meeting platform. On Fridays, one of four different cohorts would spend a half day in person at school, with the activities all focused on socialization in a safe, distanced way, followed by a free pizza lunch.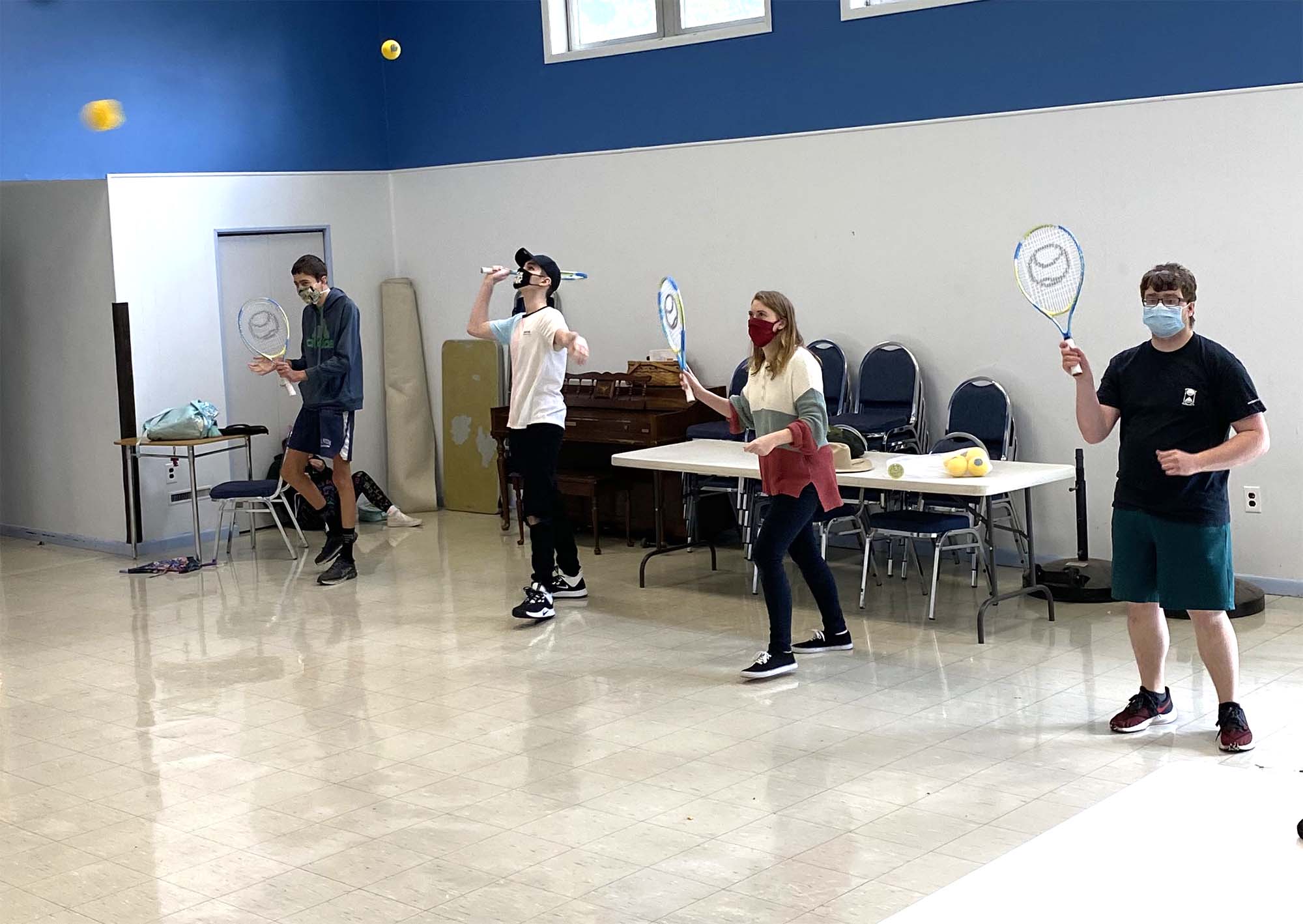 "We have things like electronic escape rooms, where students are sitting with masks on in the school, six feet apart or more, playing virtual games in a room together with their teachers," Burtch says. "Our history teacher is big on trivia, so he runs knowledge and trivia games. And we're working on building an outdoor garden."
All About Activity
Joe Goodwin, HBA '93, is a physical education and health teacher at Ocean Bay Middle School in Myrtle Beach, S.C. As a phys ed teacher, Goodwin said that during the initial shutdown, his top priority was encouraging students to get outside and be physically active, "because that's the best thing you could do." He posted videos online and suggested easy activities students could do at home in order to keep active.
Teaching at a school in an area with a warm climate, Goodwin notes that his students have the benefit of doing COVID-safe, outdoor activities all year-round.
"Now we're doing modified tennis because students can keep their own rackets. We're going to start field hockey next because they have their own stick and we will just have to sanitize the sticks after every class."
—Joe Goodwin, HBA '93
When it comes to mental health, Goodwin says that some students have managed well through COVID-19 because they've been able to spend a lot of time outside.
"I have a son who is a freshman in high school and he's had the best time of his life. We live in a great community where we have lakes and pools, so he had the endless summer," he says. "But I know there are kids who are inside bingeing Netflix, playing video games, and becoming more socially reclusive."
Steven Burtch from TCS notes that some students have struggled academically without the benefits of in-person instruction. "But the flip side is also true. There are several students who I would argue maybe performed better because of distance learning," he says.
Lessons Learned
In the wake of so much rapid change to almost every part of society, many have suggested that the pandemic may change certain industries for good.
Burtch thinks that COVID-19 could have a permanent impact on how we approach the idea of illness both in and out of the classroom.
"I think it may break the stigma of wearing masks in our culture," he says. "My hope is that even if you don't have COVID-19, if you have a flu or cold symptoms, you'll put a mask on. And it will encourage people to stay home when they feel ill."
Naheed Bardai from UCC notes that COVID-19 has forced educational institutions to look at how effectively they have, or haven't, been using technology.
"We've had to adapt to new technologies, but the big question is going to be once we come out of this pandemic — 'What do you cut and what do you keep?' Our bread and butter is a relationship-driven, in-person-delivered education, but I see it being enhanced by the technology adaptation that we've been able to have in place."
—Naheed Bardai, HBA '02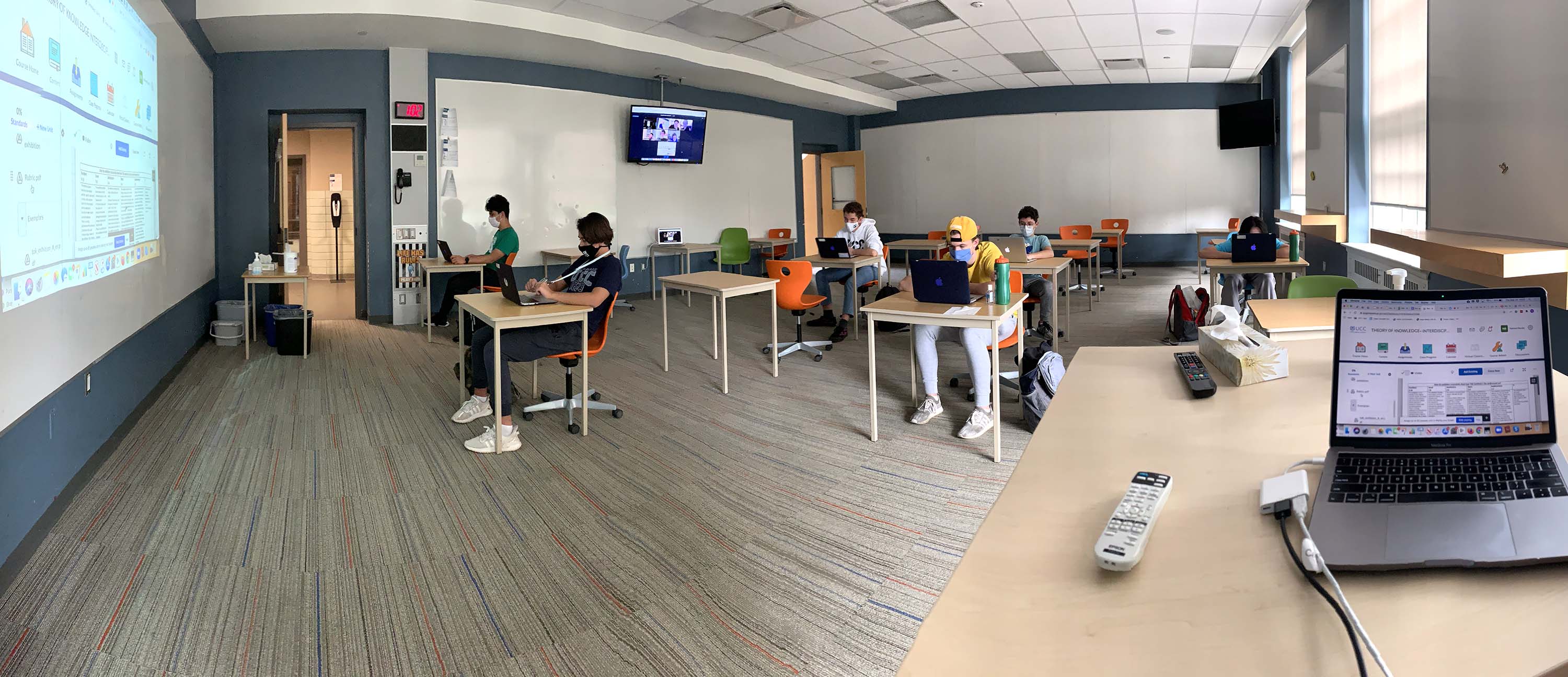 Lorraine Trotter points out that for this year's baking program at George Brown, they have students who are studying remotely from countries like Colombia, South Korea, Iran, and Pakistan. "Those are students we couldn't have served if we weren't online," she notes.
And while students do have some anxiety about work placements and jobs because of uncertainty in the tourism and restaurant industries, Trotter sees a big learning opportunity for students. "I remind them that their technology skills are now leaps and bounds ahead of anybody who graduated before them," she says.
up next / FEATURE
ON THE
BRIGHT SIDE
Many alumni are focusing on the positives in an otherwise negative situation — the silver linings.
read more