About The Ivey Academy
Read more to learn about our mission, values, and learning experience.
Land Acknowledgment
We acknowledge and respect the traditional lands of the Anishinaabek, Haudenosaunee, Lūnaapéewak, and Attawandaron peoples, where Western and Ivey are located. This land continues to be home to diverse Indigenous peoples, whom we recognize as contemporary stewards of the land and vital contributors of the community.
Who We Are
The Ivey Academy at Ivey Business School is Canada's leading institute for management education and professional development. We work with organizations globally to build leadership capacity, share insights on critical business issues, and drive real-world strategic impact through learning. Our approach blends contemporary research with innovative teaching methods to create a social, interactive, inclusive environment for professional growth.
Our Mission and Values
We develop leaders who think globally, act strategically, and address critical issues facing organizations and society, through impactful research and transformative learning experiences.
Integrity
We expect honesty and accountability in our actions and decisions, seeking to inspire ethical and responsible leadership.
Inclusivity
We respect diversity of thought, identity, and perspective, recognizing that inclusive communities foster innovation and creativity.
Community
We see strength in positive and supportive interactions, take pride in our collective accomplishments, and have confidence in our long-term success.
Courage
We pursue ambitious goals through our commitment to academic and research excellence and believe that, through an entrepreneurial spirit and capacity to act, we can achieve meaningful outcomes locally and globally.
Why Choose The Ivey Academy?
In the Financial Times rankings of the world's leading providers of executive education programs, The Ivey Academy is ranked #1 in Canada, and among the top 20 globally.
The Ivey Brand
Ivey Business School has earned an international reputation for its teaching and research excellence and the high calibre of its students and faculty. After completing a program, participants obtain a credential from one of the top-ranked Executive Education providers in the world.
Canada's Top Choice
In the Financial Times rankings of the world's leading providers of customized and open-enrolment executive education programs, The Ivey Academy has been ranked #1 overall in Canada for eighteen of the past twenty years.
Expert Facilitators
Programs are delivered by only top-rated, experienced senior Ivey Business School faculty and industry practitioners backed by deep expertise and research.
Experiential Learning
Through case studies, simulations, role plays, assessments, and evaluations, program participants learn in an active state. Making decisions and taking action drives participants to use their learning for practical impact at work. Post-program projects and coaching ensure ongoing sustainment and success.
Personalized Accommodations
Whether at our retreat-style facility in London, or our Toronto campus, participants have all their needs taken care of. Logistical details such as hotel reservations, meals, and program materials are handled by the Program Manager, a high-level concierge who ensures that the on-site learning experience is distraction-free.
The Alumni Network
Program participants form lifelong bonds with classmates. This robust alumni network is a long-term resource for participants to share business opportunities or seek advice on life and career challenges.
The Ivey Academy Experience
The Ivey Academy Experience is our holistic approach to learning and development for leaders. These pillars act as guideposts for our participant and client experience, enabling us to go beyond skill development – driving toward transformational behaviour change for individuals and deep strategic impact for organizations.
Informed
Informed
Design with deep market sensing, rigorous participant evaluations, and continuous iteration.
Co-create impactful content and learning experiences through partnerships with clients.
Build connections with leaders, industries, and organizations worldwide to understand contemporary business challenges.
Innovative
Innovative
Challenge our team, clients, and participants to consider bold new perspectives and research on the Critical Issues of our time.
Integrate technology solutions, virtual learning, interactive simulations, and multimedia materials.
Collaborate across Ivey's Labs, Centres, and Institutes to offer the latest in business thought leadership.
Interactive
Interactive
Immerse participants through innovative approaches to experiential learning.
Enable preparation and sustainment with interactive activities, simulations, and assessments.
Use real-world case studies, guests, and field visits to illustrate concepts.
Provide community-building opportunities, encouraging participants to share ideas and create connections.
Impactful
Impactful
Generate impact and change with applied, practical approaches to learning.
Provide alumni with ongoing benefits and sustainment resources.
Demonstrate return on investment and measurable business outcomes for clients and individuals.
Create space for active reflection and application of learning.
Inclusive
Inclusive
Welcome and value all participants irrespective of race, culture, ethnicity, religion, gender, disability, sexual orientation, and physical appearance.
Set expectations for behaviour and participation that promote respect and collaboration in a safe environment.
Exceed accessibility standards, striving towards Universal Design for Learning and proactive accommodation.
Return on Investment
We use deep learning evaluation to measure the impact of our programs — from qualitative results of Action Learning projects to quantitative metrics demonstrating post-program success. Investing in talent development is key to any organization's competitive advantage.
Talent Development
A clear L&D strategy streamlines recruiting, improves employee engagement, and relieves the pressure of succession planning. Our approach to learning is about investing in talent and empowering leaders for success.
Wellbeing
At The Ivey Academy, participants explore new perspectives while taking time for mindfulness, reflection, and practice away from the day-to-day demands of work. Leaders and teams return to their roles with increased confidence and open communication.
Strategic Alignment
We use focused learning and original research to guide individuals, teams, and entire organizations for better performance. For future-oriented organizations, effective L&D enables you to create alignment, reshape culture, and drive transformation.
Certification
Upon completing a program you'll receive a digital badge and certificate as our recognition of your achievement. A badge is a verified digital artifact outlining the specific knowledge and skills you have earned. You can display digital badges on social media, websites, ePortfolios, professional networks, and email signatures.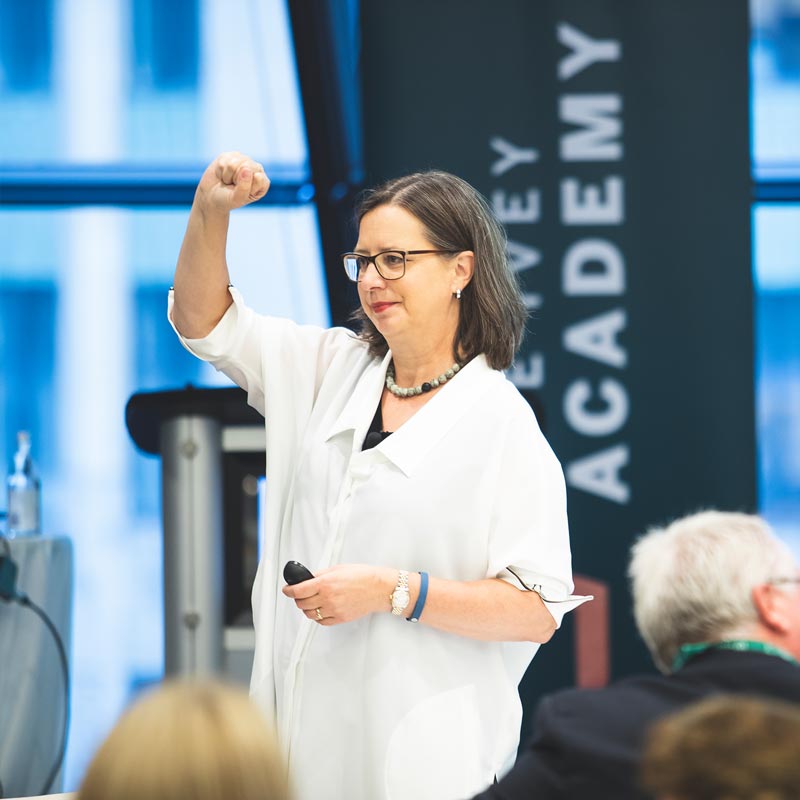 Our Faculty
Faculty members at The Ivey Academy are Ivey's most experienced facilitators, selected for their knowledge and practical insight.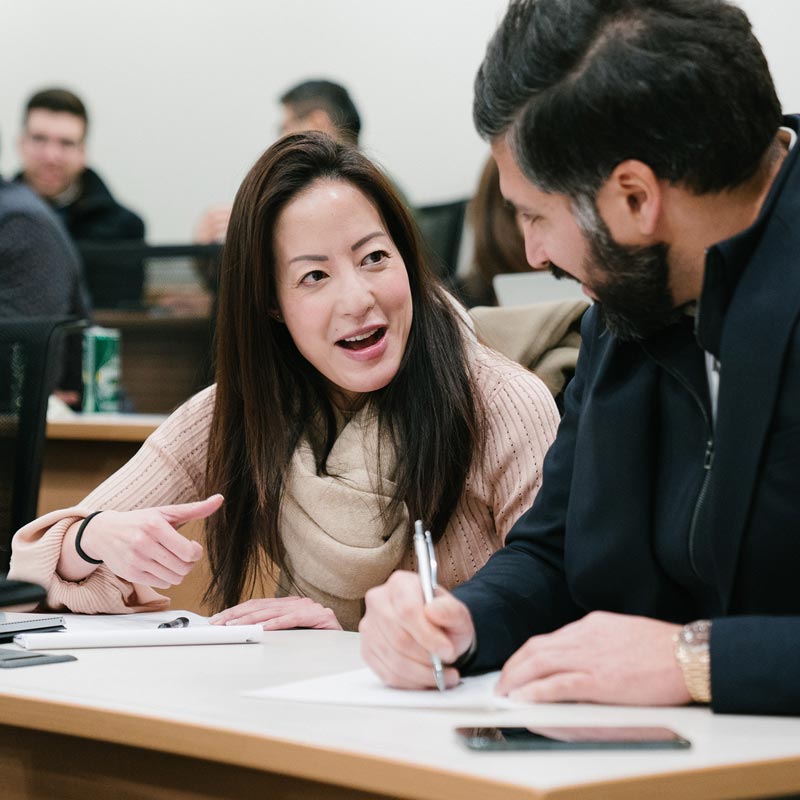 Our Team
The Ivey Academy team is ready to deliver a top-tier learning experience for you and your organization.
Contact Us
To learn more about our Programs and Services, submit your information here or call 1.800.948.8548.