Choose The Ivey Academy and make your investment count
Our clients use several measures of return on their investment in our programs. These include quantified results from action learning programs such as revenue, profit, goals achieved, and completion of a personal development plan.
Ivey offers a complete skills package to help realize the potential inside everyone.

Benefits to You
Act strategically
Understand the forces driving your business, and identify new opportunities.
Align the objectives of your business unit with the organization's strategy.
Develop an integrated approach to address business issues.
Ensure everyone understands the impact decisions have across the organization.
Build for tomorrow
Create a vision and take action to implement it.
Initiate and manage change in a fast-evolving environment.
Develop tomorrows leaders.
Shape the organizational capabilities for the future.
Create a learning environment that fosters innovation and continuous improvement.
Lead people effectively
Attract and retain the best talent.
Re-energize and re-focus senior executives.
Motivate people to strive for excellence at all levels of the organization.
Develop intelligent plans to improve and evaluate performance.
Become a better team player
Develop the partnerships to make things happen.
Value and leverage diversity of ideas and know-how.
Use positive influence to deliver results.
Make better decisions
Make timely decisions in uncertain and rapidly changing environments.
Take risks wisely.
Deal with difficult issues decisively and fairly.
Stay resilient under pressure.
Make an impact
Deliver superior results in the short and long term.
Raise the bar on performance for yourself and others.
Manage large-scale projects and increased responsibilities faster to facilitate succession planning.
Earn a Certificate with The Ivey Academy
Ivey Leader Certificate
Completing three Ivey Academy Executive Education programs will earn you the Ivey Leader Certificate. Choose the programs that best suit your learning goals and attend them at your own pace — either in quick succession or over a period of years. After participating in a total of three programs, you will receive a certificate naming you an Ivey Leader.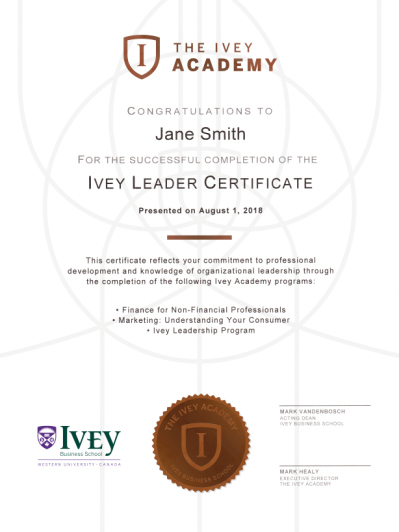 Benefits to you
As an Ivey Leader you will receive Executive Alumni Status which includes a special discount on all Ivey Executive Education programs
Develop your knowledge and skills for today's — and tomorrow's — business landscape
Interact with experts and build a global peer network
Boost your resumé to position yourself for advancement
Benefits for your organization
Retain high-potentials by investing in their development
Empower individuals and teams to bring new ideas to your firm
Apply advanced research and proven tools to your toughest challenges
Build a sustainable, productive business culture
Gain progressive cost savings as participants work toward completion of their certificate
Corporate Certificate
Partner with The Ivey Academy to offer your leaders a valuable co-branded certificate. Our corporate certificates allow our partner organizations to combine the best of Ivey's individual programs with internal learning opportunities. Create unique and personalized development pathways that lead to certificates of completion co-branded with Ivey; our experts will help you identify the Ivey programs to compliment your internal learning opportunities and best meet your needs – from the individual to organizational level.
Benefits for the individual
Flexible program schedules allow individuals to manage their own progress towards completion
Receive a valuable digital certificate to signify personal career development
Develop your knowledge and skills for today's — and tomorrow's — business landscape
Interact with experts and build a global peer network
Benefits for the organization
Create a common learning experience for your leadership talent with shared experiences
Build development pathways that are flexible enough to accommodate business demands and budget constraints
Demonstrate your commitment to world class employee development through partnership with Ivey
Significant cost savings through volume discounting
Speak to an advisor today
Our business development professionals travel regularly, meeting with both organizations and individuals, to discuss their development goals.
Request a Meeting