Alumni
As an alum of The Ivey Academy, you join a network of more than 10,000 savvy professionals around the world and across all industries who have made a commitment to lifelong learning.
When you finish an Ivey program, you become a lifelong member of the alumni community. This powerful network is a long-term resource for program participants to share business opportunities or seek advice on life and career challenges. Enjoy ongoing events, opportunities to connect across the Ivey ecosystem, and exclusive alumni benefits.
Alumni benefits and incentives
Digital credentials
A badge is an authentic digital artifact you'll receive when you complete a program at The Ivey Academy. Each badge outlines the specific knowledge and skills required to earn it and has a unique URL that you can use to showcase your commitment to professional development on social networks.
Discounts on Programs
All Ivey Academy alumni receive a 25-per-cent discount towards select Open Programs.
Research and Resources
Alumni of The Ivey Academy are part of the Ivey Business School community. As an alum, you'll receive a monthly School-wide alumni e-newsletter, @InTouch, offering the latest news, content, and research from Ivey.
Event Invitations
Stay connected with The Ivey Academy and your network of peers through exclusive events hosted by The Ivey Academy. Visit our Events page to learn about our upcoming events. We hope to see you soon!
Alumni Discounts
Ivey degree alumni – 25-per-cent discount
Ivey Academy/Executive Education alumni – 25-per-cent discount
Western degree alumni – 25-per-cent discount
View all available discounts
Ivey Leader Certificate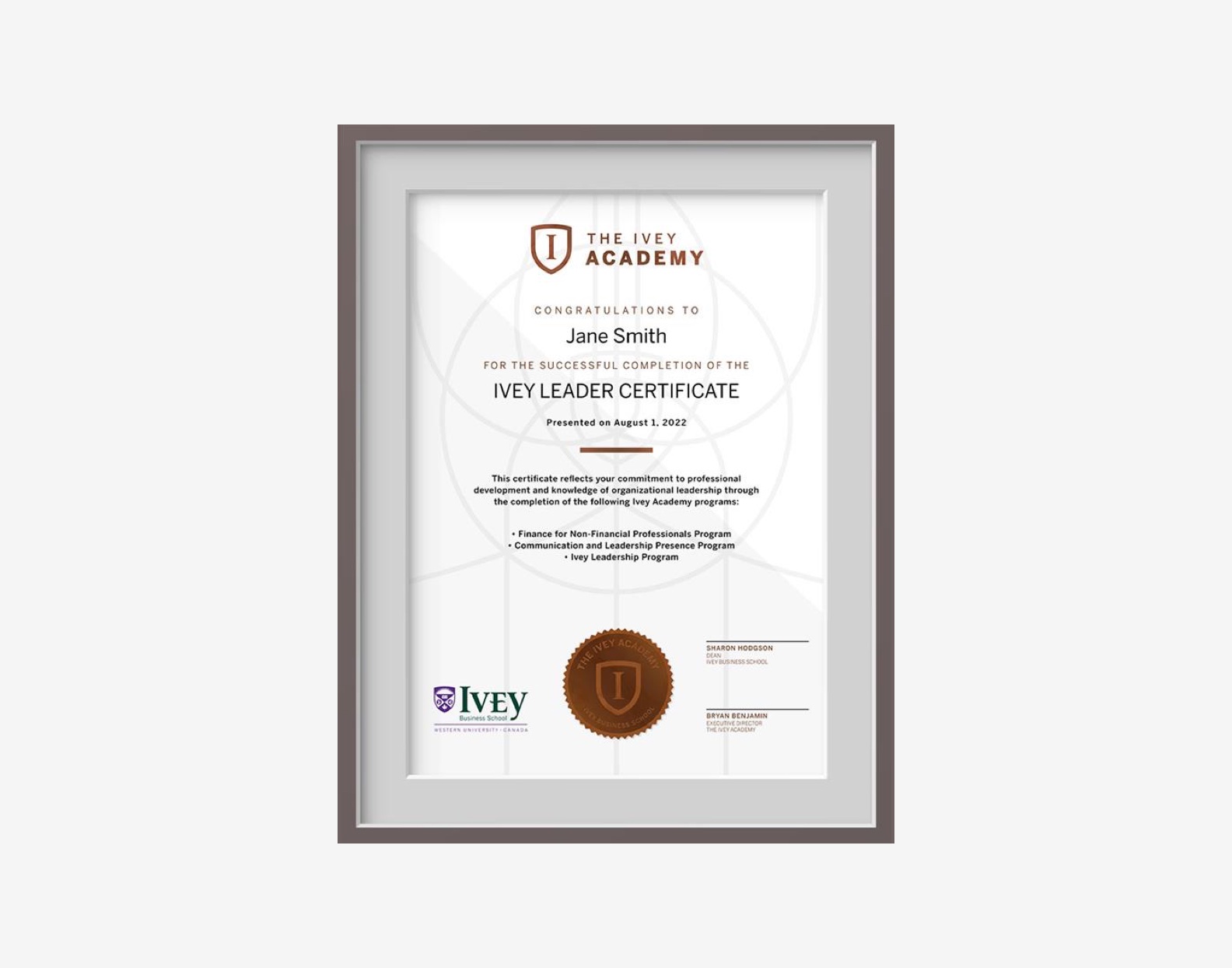 Showcase your advanced proficiency in organizational leadership by becoming an Ivey Leader. Earn the Ivey Leader Certificate by completing three Ivey Academy Executive Education programs. Choose the programs that best suit your learning goals and attend them at your own pace — either in quick succession or over a period of years. After participating in three programs, you will receive a certificate naming you an Ivey Leader.
Contact Us
To learn more about our Programs and Services, submit your information here or call 1.800.948.8548