Everyone knows that communication can be tricky. Critically important conversations happen in the workplace every day, often with no notice. Misunderstandings arise all the time, especially when stakes and emotions are high, or when people have to make important decisions together. People prefer to avoid having difficult conversations and issues don't get resolved. It's easy to forget that being able to talk to people about things is at the heart of influence and leadership.
On October 23, 2019, The Ivey Academy held the first of three events for executive education alumni to learn how to communicate more effectively, resolve differences with others, and improve their skills at talking about tough issues. The workshop was led by Misha Glouberman, the program director of The Ivey Academy's private executive education program Face to Face: Navigating Difficult Conversations. Called a "mix of Peter Mansbridge's smarts and Conan O'Brien's wit" by The Globe and Mail, Misha delivered a hands-on learning experience with exercises and games drawn from the Harvard Law School Program on Negotiation.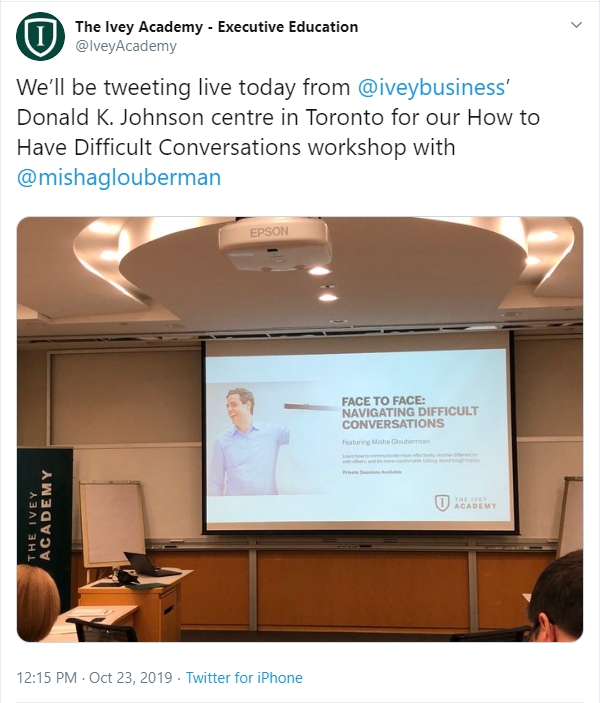 Click the image above to view a live recap thread of the workshop
Applicable tools for conversations at work and home
Mary McPherson, CEO, Oakville Hospital foundation, found the session to be applicable for both the workplace and at home.
"Misha was a fabulous presenter. I found the session to be fast-paced, enlightening and full of practical tips and guidelines to help me at work and at home. I am now going to frame my conversations differently. I will be more deliberate about the words I chose and the framework around my difficult conversations. I knew the material would be helpful at work, but frankly I was surprised by how helpful this new conversational framework will be at home with my teenagers. 
I was especially impressed with the seminar format; Misha was able to get to the heart of the material quickly allowing the group time to try out our new skill set in real-life situations, yet it didn't feel rushed.  The highlight for me was realizing just how much of a positive impact transparency and curiosity can have in good conversations," said McPherson.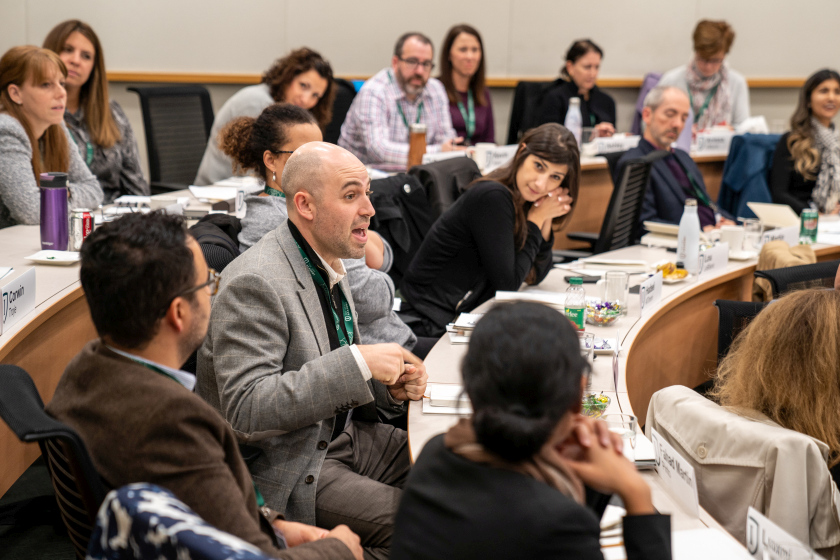 Workshop participants practiced strategies to approach difficult conversations in their own lives.
Attendees learned proven tips and tricks for getting better outcomes in the conversations that matter most, with plenty of opportunity to practice and participate throughout the workshop. Laurie Witmer, a Senior Manager at RBC, felt like she had already applied what she learned by the conclusion of the workshop.
"I came in expecting we would cover some strategies and review what we all 'should' do, and maybe go through a few examples to test our understanding of the strategy. What I wasn't expecting was the candid way we covered how our best intentions lead us astray and how we might get ourselves back on track! It felt so much more REAL than a typical seminar and I left truly feeling like I had already applied my new skillset," said Witmer. 
In addition, the workshop provided an opportunity for attendees to network and learn from each other. "The best part of the workshop was the way we split into groups to discuss different aspects and get real examples. I met so many people since we were encouraged to never join the same group twice – and it really helped to broaden my awareness and find a way for those revelations to sink in," added Witmer.
The next two sold-out sessions of the How to Have Difficult Conversations workshop will be delivered November 15 & 28, 2019, in Calgary and Toronto respectively. For more information on The Ivey Academy's Face to Face: Navigating Difficult Conversations private program, please download a program brochure. 
About The Ivey Academy at Ivey Business School
The Ivey Academy at Ivey Business School is the home for executive Learning and Development (L&D) in Canada. It is Canada's only full-service L&D house, blending Financial Times top-ranked university-based executive education with talent assessment, instructional design and strategy, and behaviour change sustainment. 
Rooted in Ivey Business School's real-world leadership approach, The Ivey Academy is a place where professionals come to get better, to break old habits and establish new ones, to practice, to change, to obtain coaching and support, and to join a powerful peer network. Follow The Ivey Academy on LinkedIn, Twitter, Facebook, and Instagram.