Watch the full recorded broadcast above.
As a business leader, it's important that you have accurate information on the current healthcare situation. But how should we interpret COVID-19 data? What should we look for?
On April 15, 2020, The Ivey Academy delivered a complimentary webinar to help answer those questions. Dr. Cathy Faulds, a palliative care physician at St. Joseph's Health Centre and staff family physician at London Health Sciences Centre, was joined by Ivey's Lauren Cipriano, a professor of management science and expert in health policy, and Jon Hantho, MBA '89, President & CEO, CBI Health Group. They discussed what's really going on with the current COVID-19 pandemic.
Key webinar content
Core topics
An update on the current COVID-19 situation in Ontario
Pivoting from in-person to virtual healthcare
COVID-19 modeling
What data sources should be trusted?
The importance of social distancing
Why messaging surrounding mask-wearing has been inconsistent
The inequality of the distribution of personal protective equipment
Healthcare innovation and change to healthcare delivery as a result of the pandemic
How long will it take to return to "normal"?
What can we learn from this pandemic and what uncertainties can we begin to answer?
Lessons learned from other countries and how Canada's progress toward containment ranks globally
Session materials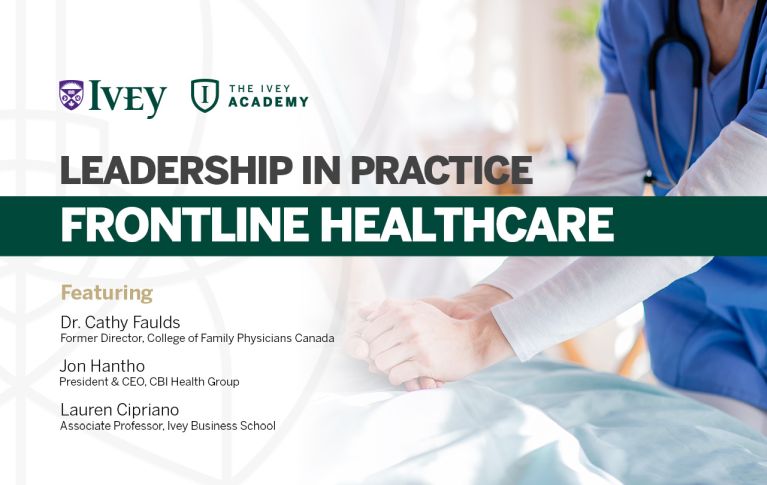 Click the above image to view slides, or download the slide deck presentation.
Memorable quotes
"We're in a very good place, perhaps we are through the peak of the pandemic. We're below 70 per cent (capacity) for our ICUs (intensive care units), which is really encouraging." - Dr. Cathy Faulds, palliative care physician 
"For my sources of data, I'm sticking to the most mainstream and most well-resourced. The New York Times, The Washington Post, The Guardian, and here in Canada, The Globe and Mail. It's where we can trust well-resourced, highly experienced reporters who are curators of science news ... We have to be very wary in the popular press of more fringe or unreliable sources." - Lauren Cipriano
"(As a result of the crisis) we're seeing enormous innovation. There are some real benefits that are going to last way beyond the pandemic for the healthcare system - just how agile and creative we've actually been together." - Jon Hantho, MBA '89, President & CEO, CBI Health Group
Q&A with Lauren Cipriano
Why are COVID-19 models useful?
Mathematical models of infectious disease are useful because they can incorporate all the available data to make projections about the future, they can be used to compare hypothetical policies and technologies, and they can be used to understand which uncertainties are the most influential in the decision making process.  
Models of COVID-19 clearly demonstrate that isolation of cases and known contacts and general physical distancing policies are an effective tool for preventing widespread community transmission.  
Models can be used to identify the expected outcome of policies, but also the worst-case scenario.  In this case, because the worst-case scenario is so catastrophic, it is important to be able to identify what this looks like and to begin preparing physical resources – such as identifying and preparing a field hospital location -- and human resources – such as hiring more staff well in advance.   
Why are physical distancing policies so important?
The goal of these policies is to prevent the hospital from running out of capacity and to buy time.  We need time to build up hospital critical care capacity, to prepare staff and gather physical resources like ventilators and PPE.  We need time to answer questions about the disease including what fraction of patients will need critical care, how long COVID-19 is infectious for, and whether recovery results in a durable immunity.  We need time to evaluate potential treatments and to develop a vaccine.  
Without physical distancing policies, as we have seen in communities around the world and not so far from home, a large number of people will become infected. The number of people in need of critical care and mechanical ventilator support may exceed what our health system has and the consequences of that happening are grim.   
Some people in our population are high risk – high risk of contracting the virus and/or high risk of the worst consequences of the virus: people living in long-term care, people receiving home care, people in the community with chronic disease, incarcerated people, and people living in shelters and in homelessness.  We must have robust processes in place for transmission prevention in these highest risk populations in order to ease social distancing.  
When will physical distancing measures be lifted?
Expanded testing to identify infected individuals, intensive contact tracing to quarantine individuals who may have been exposed, and diligent monitoring in the general population to quickly identify an outbreak may provide a path forward to lifting physical distancing measures in priority areas.   
Vaccination, when it becomes available, will hopefully provide a durable protection for the population so that we can return to normal levels of social interaction; but the first doses of vaccine will need to be prioritized to essential workers and people at highest risk.  Just as modeling is helping now to evaluate physical distancing policies and to estimate demand for hospital resources, data-driven modeling will also help us evaluate different strategies for opening our society back up and for efficiently allocating vaccine.
Additional reading
Confirmed worldwide COVID-19 cases, Our World in Data
Status of COVID-19 cases in Ontario, Ontario.ca
Coronavirus disease (COVID-19): outbreak update, Government of Canada
Follow The Ivey Academy on LinkedIn, Twitter, Facebook, and Instagram for future virtual event announcements.
About The Ivey Academy at Ivey Business School
The Ivey Academy at Ivey Business School is the home for executive Learning and Development (L&D) in Canada. It is Canada's only full-service L&D house, blending Financial Times top-ranked university-based executive education with talent assessment, instructional design and strategy, and behaviour change sustainment. 
Rooted in Ivey Business School's real-world leadership approach, The Ivey Academy is a place where professionals come to get better, to break old habits and establish new ones, to practice, to change, to obtain coaching and support, and to join a powerful peer network. Follow The Ivey Academy on LinkedIn, Twitter, Facebook, and Instagram.