Watch the full recorded broadcast above.
No matter what your new normal looks like, we are all facing disruption at work. At a time when clear communication is more important than ever, we're also navigating new challenges that come with remote calls, back-to-back meetings, and long hours in the home office.
With five minutes to get ready for your third virtual meeting of the day, how do you reset your thinking and take on a leadership mindset? On May 14, 2020 The Ivey Academy delivered a live online workshop in partnership with Western Alumni on leading virtually, featuring Ivey Academy professor Kanina Blanchard.
In the session, Kanina demonstrated ways high-performing executives use para-linguistics, physical presence, and neuroscience to lead and influence virtually. Additionally, Kanina shared a framework that can improve your communication skills anywhere – at work, with friends, and in relationships.
Key webinar content
Core topics
Executive presence and authenticity
Leadership communication competencies
Character and commitment and how they relate to communication
Things that can make you nervous or uncomfortable with being on-camera during virtual meetings
The use of voice, tone, and silence
Preparing vs. rehearsing
Levelling the playing field when some team members connect to virtual meetings by video and some by audio alone
Physical presence and different ways you can engage your audience
Presence at a distance
Utilizing physical space and the importance of your background and lighting
Tips for avoiding zoom fatigue
Maintaining the attention of your audience
Adapting periodic check-ins to suit the individual needs of your team members
Contextual challenges and how to overcome them
Session materials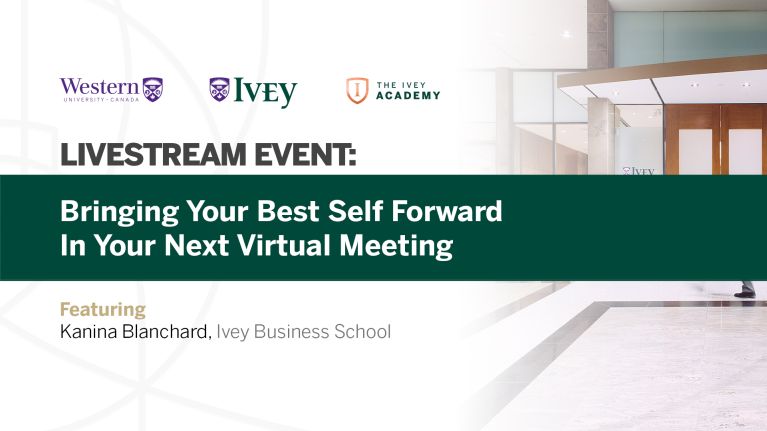 Click the above image to view slides, or download the slide deck presentation.
Memorable quotes
"When you want to bring your best self forward, it's not about what you want to say. It's not about what you want to convey. It's not about what you meant to do. It's all about this: what your audience hears, what they see, and ultimately, how they feel." – Kanina Blanchard
"How you leave people feeling determines how successful your communication was." – Kanina Blanchard
Additional reading
Leader character framework, Ivey Institute for Leadership
Follow The Ivey Academy on LinkedIn, Twitter, Facebook, and Instagram for future virtual event announcements.
About The Ivey Academy at Ivey Business School
The Ivey Academy at Ivey Business School is the home for executive Learning and Development (L&D) in Canada. It is Canada's only full-service L&D house, blending Financial Times top-ranked university-based executive education with talent assessment, instructional design and strategy, and behaviour change sustainment. 
Rooted in Ivey Business School's real-world leadership approach, The Ivey Academy is a place where professionals come to get better, to break old habits and establish new ones, to practice, to change, to obtain coaching and support, and to join a powerful peer network. Follow The Ivey Academy on LinkedIn, Twitter, Facebook, and Instagram.