Watch the full recorded broadcast above.
A circular economy is an economic system designed to eliminate waste and pollution, prolong the use of products and materials, and regenerate natural systems. It fundamentally enables sustainable development and economic resilience while creating enormous opportunity for new products and services. Despite widespread consensus on the importance of transitioning to a circular economy and major corporate commitments to action (e.g. IKEA has committed to going fully "circular" by 2030), real change is happening very slowly. Why? A circular economy requires shifts in both the operations and the mindsets of organizations that need to be much better understood.
On Thursday, November 26, we were joined by Jury Gualandris, Assistant Professor, Ivey Business School; Barbara Swartzentruber, Executive Director, Smart Cities Office, City of Guelph; and Frances Edmonds, Head of Sustainable Impact, HP Canada. Together we discussed the importance of collaboration between industry leaders and researchers to overcome the barriers to driving change to make the necessary shifts toward a circular economy. Additionally, our panel imparted lessons learned from the establishment of Canada's first circular food economy and the transition to a circular plastics economy, shared insights from Ivey's circular economy research program, and answered audience questions.
Key webinar content
Core topics
An overview of the circular economy concept
The circular economy from a business perspective
The barriers to the adoption of circular economy practices
The roles research and education play in overcoming these barriers
Sectors, industries, and organizations who are leading the transition to circular economies
Canada's first circular food economy and the Our Food Future initiative
The success of public-private partnerships
Linear consumer recycling programs
The term "upcycling"
The impact of oil prices on plastics and the incentives to recycle
Does circular procurement require an external stimulus?
The reasons for the lack of momentum in circular procurement
What regulatory measures or incentives are most effective in stimulating circular economies?
The waste economy and agility in the agriculture sector
Waste metrics, labels on products, and "greenwashing"
Will the disruption of COVID-19 allow for or enable across-the-board change?
Employee ownership and the concept of cooperatives to fund transformation
Working on a circular economy that is both environmentally sustainable and socially equitable
Memorable quotes
"We started working with the food sector, mostly because there is a very bad statistic in Canada: 60 per cent of all the food produced in our systems goes to waste." – Jury Gualandris
"We've discovered to our horror that many of the plastics we're dutifully rinsing and putting into our blue bins are not actually being recycled, and that's a bit of a shock to Canadians." – Frances Edmonds
"Most customers today, even if they say they are buying with sustainability in mind, are not. And we very rarely see a requirement at any level of government for consumers or business for recycled content. So, the market isn't a level playing field – when we're trying to sell products that contain recycled content it's costing us more. This is a really good example of a circular economy issue where you're competing against producers who are making products that are essentially disposable." – Frances Edmonds
"(Circular procurement) is, in my perspective, a massive socio-economic transition. You have to treat it like a movement that needs support on multiple levels in order to effect change." – Barbara Swartzentruber
"You know, we're talking with an academic institution here, but most academic institutions are not graduating graduates who know what a carbon footprint is. And we're really have a problem there – we're in the decade of climate action, the climate catastrophe is upon us, and you know as Barbara says, we have to work on all this stuff, all at once. It's great that Ivey is playing a role in this, but faster, quicker, please." – Frances Edmonds
"Every intervention should think about three aspects together: Are we stimulating demand? Are we capturing externalities? Are we educating individuals?" – Jury Gualandris
Session materials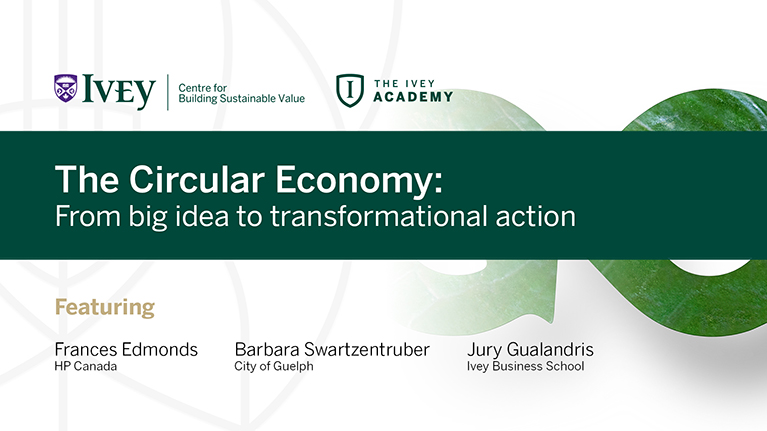 Click the above image to view slides, or download the slide deck presentation.
Additional reading
Buying responsibly: A how-to guide, WWF.ca
Assessing the degree of sustainability integration in Canadian public sector procurement, HP Canada
Circular Economy - Ivey Centre for Building Sustainable Value
Follow The Ivey Academy on LinkedIn, Twitter, Facebook, and Instagram for future virtual event announcements.
About The Ivey Academy at Ivey Business School
The Ivey Academy at Ivey Business School is the home for executive Learning and Development (L&D) in Canada. It is Canada's only full-service L&D house, blending Financial Times top-ranked university-based executive education with talent assessment, instructional design and strategy, and behaviour change sustainment. 
Rooted in Ivey Business School's real-world leadership approach, The Ivey Academy is a place where professionals come to get better, to break old habits and establish new ones, to practice, to change, to obtain coaching and support, and to join a powerful peer network. Follow The Ivey Academy on LinkedIn, Twitter, Facebook, and Instagram.